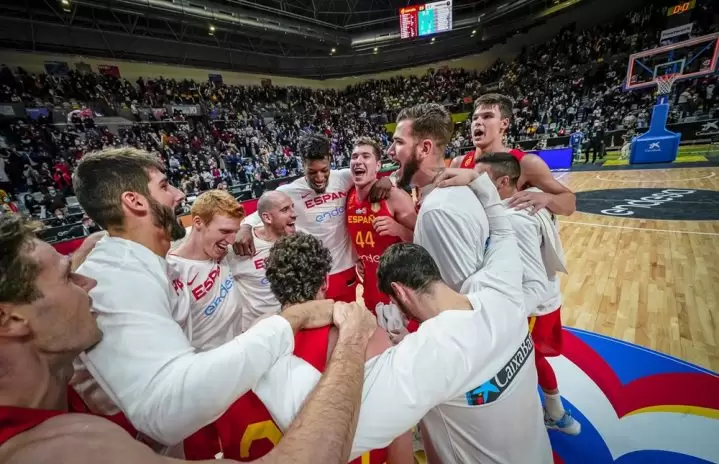 The clash between Spain and Georgia headlined the final day of the 2023 FIBA Basketball World Cup Qualifiers.
Playing excellent on both ends, the Spaniards crushed their opponents and secured an easy home win (89-61). As a result, Spain climbed to 2-0, whereas Georgia dropped to 1-1.
In the other match of Group G, Ukraine dominated North Macedonia (78-61) and earned its first win in the Qualifiers (1-1). On the contrary, North Macedonia is still winless after the first two games (0-2).
Group E action saw France decimate Hungary on the road (54-78) and take the upper hand in the group (2-0). For its part, Hungary suffered its first loss in the Qualifiers (1-1). At the same time, Montenegro rallied past Portugal at home (83-69) and closed the first window of the Qualifiers with a victory (1-1). Portugal, on the other hand, is at 0-2.
In a matchup between two European powerhouses, Lithuania triumphed over the Czech Republic and earned the 66-74 road win. Lithuania remained undefeated in Group F (2-0), whereas the Czechs are winless after two games (0-2). Similarly, Bosnia-Herzegovina improved to 2-0 and handed Bulgaria (0-2) its second straight defeat (75-85).
In Group H, Russia maintained its momentum and beat Iceland to remain on top (89-65). The Russians are unbeaten (2-0), whereas Iceland is at 1-1. For its part, Italy survived a late thriller over the Netherlands (75-73) and claimed a crucial home win. Italy is second with an 1-1 record, whereas the Netherlands are still winless (0-2).
Group A action came to an end with the match between Latvia and Slovakia, where the former prevailed (82-74) and improved to 1-1. Meanwhile, Slovakia is at 0-2.