FC Barcelona announced that Cory Higgins has not recovered from the back injury he has been dealing with and will remain out of action. The...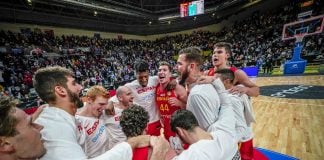 The clash between Spain and Georgia headlined the final day of the 2023 FIBA Basketball World Cup Qualifiers. Playing excellent on both ends, the Spaniards...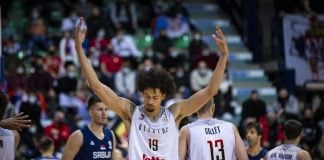 The losses of Serbia and Croatia headlined the third day of the 2023 FIBA Basketball World Cup Qualifiers in Europe. The Serbians missed the chance...
Along with the new Chicago Sky WNBA Champs Bobbles, FOCO also celebrates the reiging NBA champions, Milwaukee Bucks, with a new bobblehead set. To keep...
The Los Angeles Lakers revamped their roster this past offseason, keeping just three players from last year's roster, with the goal of competing for...
The three-time Super Bowl champion and Pro Football Hall of Famer, Shannon Sharpe, shared his thoughts about the Los Angeles Lakers comeback victory over...
Steve Kerr seems to not worry about the Golden State Warriors to the red-hot Suns Tuesday night. The Suns blitzed against Steph Curry, who...
Brooklyn Nets superstar Kevin Durant played 41 minutes against the New York Knicks Tuesday. Durant addressed the notion he should play fewer minutes considering...
Los Angeles Lakers newcomer Malik Monk had another big game coming off the bench. The 23-year-old shooting guard made 6 three-pointers on the way...
Sacramento Kings head coach Alvin Gentry did not hold back after his team loss to the Los Angeles Lakers. The Kings could not hold...
The Los Angeles Lakers recorded their biggest win of the season by crushing the Sacramento Kings 117-92 on the road. The win came just...
Golden State Warriors could not put an end to the Suns' 16-game winning streak on Tuesday, mainly because Steph Curry struggled all night. The Warriors'...
James Harden has experienced many ups and downs through the 2021-22 regular season with the Brooklyn Nets. However, he's still making history in several...
Anthony Davis posted 25 points, Russell Westbrook added 23 and the Los Angeles Lakers overcame the absence of LeBron James to beat the Sacramento...
With the NCAA season starting this week, here is an interesting study about the top men's and women's college basketball players and their social...
Former Arizona Wildcat Gilbert Arenas recently showed love to his late coach Lute Olson on Baron Davis' podcast. Arenas said that without Olson, a young...
If you aren't a native of North America or have never spent a significant amount of time there, you probably won't appreciate just how...