Olimpia Milano has reached an agreement until the end of the season with point guard Shabazz Napier who is coming from the Capitanes de...
After having to settle for bronze in 2004 Athens Olympics and bronze in 2006 FIBA World Cup, USA Basketball was determined to assemble the...
DeMar DeRozan has won two gold medals while playing for Team USA - 2014 World Cup and 2016 Rio Olympics. The 33-year-old small forward was...
Unlike the infamous free NBA streams, watching games through these legal channels requires one to pay a subscription fee. One way you can purchase...
Bogdan Bogdanovic is drawing significant interest from NBA teams, just like the Pistons forward from Croatia who shares the same name. In addition, the Hawks...
The Denver Nuggets point guard Bones Hyland has reportedly had friction with the team coaching staff. The second-year guard would like a more significant...
The New York Knicks have reportedly offered three first-round picks for Ogugua "O.G." Anunoby Jr. The Memphis Grizzlies and New Orleans Pelicans are also...
The Los Angeles Lakers, Miami Heat, New York Knicks and Dallas Mavericks have been consistently mentioned by league executives as teams with a desire...
The Golden State Warriors veteran forward Draymond Green details why he thinks LeBron James of the Los Angeles Lakers is the greatest face of...
San Antonio Spurs rookie Jeremy Sochan recently talked about how it's been to play for head coach Gregg Popovich. (via Locked On Spurs): "It's been an...
The Toronto Raptors are looking for young players in trade talks centered around OG Anunoby and Fred VanVleet, per ESPN's Brian Windhorst. "Guys in the...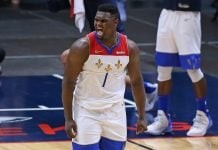 When CJ McCollum was traded to the Pelicans last season, he assumed the role of a mentor of Zion Williamson as well the whole...
The Brooklyn Nets left their injured trio of Kevin Durant, Ben Simmons and T.J. Warren home, not having them travel for Wednesday's 139-96 loss...
Houston Rockets head coach Stephen Silas was super impressed with rookie Tari Eason's performance in last night's 112-106 home win vs. the Oklahoma City...
It is widely expected that Bronny James, the eldest son of Lakers superstar LeBron James, will go to college next year after graduating from...
Bronny James, the son of the Los Angeles Lakers superstar LeBron James, will reportedly decide between Ohio State, USC and Oregon, according to a...
James Worthy recently discussed what it was like to play for head coach Dean Smith during his time at the University of North Carolina. (via...