Nikola Mirotic will remain out for a few days, after testing positive for Covid-19, according to the official announcement of FC Barcelona. The veteran forward...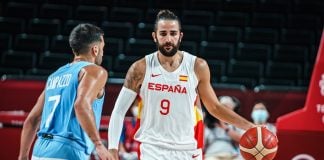 Spanish star guard Ricky Rubio confirmed he will not play for Spain in the 2022 FIBA EuroBasket in September. Rubio underwent surgery in his left...
Lots of athletes will tell you winning something for their country is one of the greatest achievements they can boast. The likes of Magic...
25 years ago today, the Chicago Bulls power forward Dennis Rodman's infamous kick to a cameraman's groin. Rodman paid the cameraman $200K, was fined...
Nineteen NBA players became eligible to be traded today as three months have passed since they re-signed. Among them are such names as Los...
Steph Curry is not expected to be out for long, according to Golden State Warriors' head coach Steve Kerr. Curry missed Sunday's game against...
As tensions and anxiety loom within the purple and gold fandom, LeBron James only has a definite message to offer that must be translated...
Los Angeles Lakers have underperformed viciously despite starting the season as title favorites. The Lakers had yet another game that can be labeled as...
Though he remains the clear cornerstone of the league powerhouse in Phoenix Suns, Devin Booker will always have admiration for the franchise he fell...
According to Shams Charania of The Athletic and Stadium, the Los Angeles Lakers plan to sign small-ball big man Stanley Johnson to another 10-day...
It looks like the Toronto basketball faithful will have to wait for a while, as their former franchise player Kyle Lowry won't be suiting...
The Los Angeles Lakers will face the Utah Jazz on Monday and could have a few players unavailable, due to injuries. Anthony Davis and Kendrick...
Draymond Green is out for an extended period of time. Per Anthony Slater of The Athletic, the Golden State Warriors forward is set to be...
Brooklyn Nets are optimistic that star forward Kevin Durant will return to action within the next four to six weeks. Durant had to leave the...
There's been quite the buzz around the basketball world as of late for Auburn Tigers freshman superstar Jabari Smith to go #1 in the...
Denver Nuggets forward Zeke Nnaji & Boston Celtics guard Payton Pritchard erupted on Saturday off the bench. Nnaji went for 21 points (5-9 3-PT) in...
With the NCAA season starting this week, here is an interesting study about the top men's and women's college basketball players and their social...