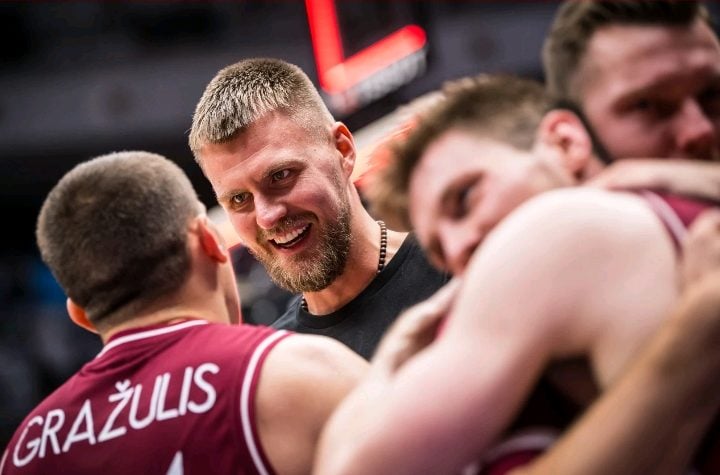 Latvia marked Arturs Day in Manila with a remarkable victory.
Arturs Kurucs led the team in scoring, while Arturs Zagars achieved a historic milestone by setting a new record for assists in their dominant win over Lithuania, securing fifth place in the tournament.
The final score was 98-63, granting Latvia the right to boast for another year, as they finished one step ahead of their neighboring sixth-placed Lithuania.
Lithuania appeared fatigued and lacked energy, with Vaidas Kariniauskas and Eimantas Bendzius not even entering the game, further limiting their already short rotation.
Latvia made a strong start, scoring 28 points in the first quarter and dominating the third quarter with a score of 28-9. This ensured a stress-free day for most of the 9,440 fans at the Mall of Asia Arena.
A smaller group of Lithuanian supporters had little to cheer about, as the game quickly slipped out of reach with a massive point deficit.
Latvia's debut in the tournament was unforgettable, with the spotlight on their exceptional point guard, Arturs Zagars.
Zagars made a significant impression as a free agent and capped it off by setting a new World Cup record.
In just 26 minutes of play, Zagars delivered a remarkable 17 assists, the highest number recorded in a single game since assists were first included in the box score in 1994.
If the game had been closer, he could have easily reached 20 assists, as he already had 10 assists by halftime.
Zagars' exceptional passing played a pivotal role in the game's outcome, and he also contributed with 4 points and 6 rebounds, all without committing a single turnover.
Watch the game highlights between Latvia and Lithuania in the Class. Games 5-6 at the FIBA Basketball World Cup 2023: