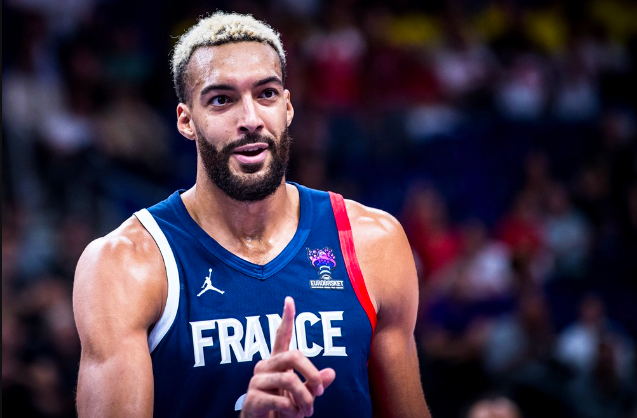 There was no Turkish delight as they go home but for France, the show goes on.
In a sometimes sloppy but regardless thrilling EuroBasket Round of 16 opener, France survived twice to eventually overcome Turkey 87-86 after overtime.
They needed luck, two missed free throws from Cedi Osman, a career 71.8% foul shooter in regulation kept France in it. And in the following possession, a miss from Evan Fournier was cleaned up by Rudy Gobert and taking the game to overtime.
Both teams battled in the extra period. France held the lead heading to the last seconds and they needed a stop. A hero.
That man turned out to Terry Tarpey, who stole the ball off of Furkan Korkmaz in the dying seconds to preserve the lead and book France's place into the quarter-finals.
"We just never stopped fighting," said Gobert, who hit 20 points and 17 rebounds in a monster display.
"We always believed. It was obviously not our best game. But the thing I am really proud of is the fact that we never gave up. A lot of teams would have gave up in that position. They probably wouldn't have tried to make the play and steal the ball. We didn't, we kept fighting and we were rewarded for that."
This latest heartbreak ultimately brings a close to Turkey's controversial EuroBasket campaign filled with scandal.
The fact that the team itself has played some superb basketball during its week in the tournament has been massively overshadowed with alleged fighting and public complaints towards FIBA.
The latest though, in truth, is pretty valid. With Turkey head coach Ergin Ataman stating that his side had to endure a five-hour flight from Georgia to Berlin – the longest distance out of all four host cities – they were also forced to wait another two hours waiting for luggage due to Georgia being a non-Schengen zone, forcing them to miss a practice in the Mercedes Benz Arena.
And to top it off, the game tipped off at 12:00 CET with Turkey needing to be in the venue by 10:30am.
Harsh when you have to play the Olympic silver-medallists.
They fought though. But to no avail.
"This is maybe the worst emotional loss in my 26 year career," said Ataman.
"Of course France won the game but I think we deserved to win. But this is basketball. Sometimes things happen that are a miracle. And this time a miracle happened against us."
"I feel for Turkey because they can be really disappointed the way the game went," France coach Vincent Collet sympathised. "They had the opportunity to win it in regulation. They missed two free throws and turned it over on the last possession."
Photo: FIBA