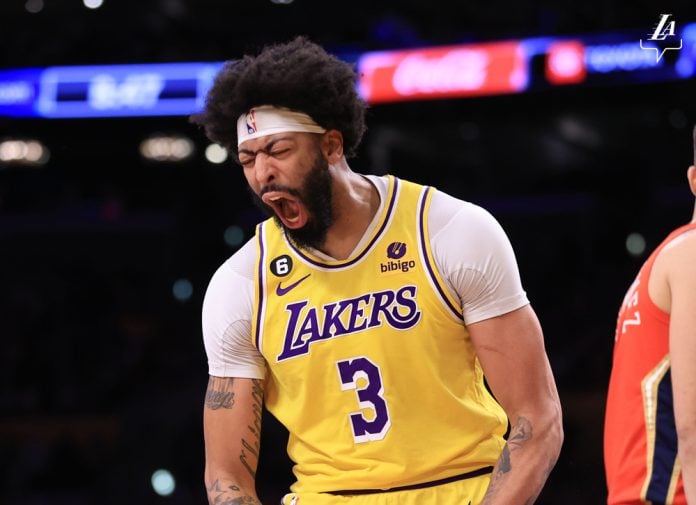 Since joining the Los Angeles Lakers and securing an NBA championship in his first year with the team, Anthony Davis has faced his fair share of injury setbacks, limiting his contributions to the purple and gold.
Over the past four seasons, the superstar forward has played 62, 36, 40, and 54 regular-season games, respectively, prompting concerns about his availability.
However, Lakers General Manager Rob Pelinka shed light on Davis's commitment this offseason to prepare his body for an extended and impactful year.
"When AD came up for the extension, Darvin and I had great interactions with him," Pelinka stated during a press conference. "And the theme was, 'We want to commit to you, but we want you to commit to us.'
"And one of the aspects that we addressed with him in that exchange was becoming a leader and being the hardest worker, and he really did that this offseason."
Pelinka emphasized Davis's dedication to improving himself physically. "I think probably some of you have seen some of the video he posted," he added.
"He was trying different ways to challenge himself, get his body better. He's been in the gym working really hard with coach Chris Jent and others, training more this offseason than I've seen it with him as a Laker.
"So he's taken on that leadership mantle, and I think he knows that when the franchise invests in him, like we did this summer, he's going to return that. That's just his character. That's who Anthony Davis is, and we're excited to see that."
Lakers Head Coach Darvin Ham echoed Pelinka's sentiments, highlighting the transformative changes in Davis's physical condition.
"Again, just to piggyback off Rob," Ham noted, "just his cross-training that he participated in and just going through a summer, not trying to remain injury-free, but to actually dive into his body. He came back leaner, stronger, quicker, more explosive."
Ham emphasized the potential ahead for the 30-year-old Davis, a player of immense skill and impact, especially in the frontcourt.
"People forget for a player at his position, whether it's the four or the fives, just a front-line player of his skill set and the magnitude of which he impacts the game.
"He's only 30 years old, and there's a huge, huge road still ahead of him," Ham said. "And how he can lead this franchise and hopefully put some more banners up here."