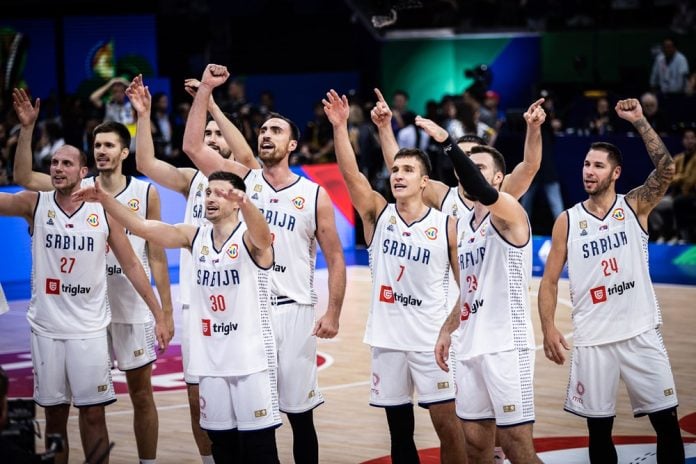 As they finally landed at the 2023 FIBA Basketball World Cup Finals in a grand style, Serbia proved they could emerge as the last team standing.
And despite missing a key figure to their program in Nikola Jokic, the Eagles didn't lose any sweat from the start of the tournament as they are now just one victory away from hoisting the coveted Naismith Trophy.
Following their massive 95-86 World Cup Semis victory against Canada, Marko Guduric pointed out that since the best player in the world isn't at their side, they firmly deserve the spotlight and the narratives of making it as deep as the championship round.
"It doesn't matter who is not here. It's about guys, about this group of guys. Whoever's here, whoever wearing this Serbian jersey. We never give up, we fight until the end, it's in our blood. We are proud of our country and we represent our families, people, and you see the crowd that we have here [in Manila's Mall of Asia Arena]. I can't imagine how we are not in Serbia.
"Like I said, it really doesn't matter who is not here. It's all about whoever can play will give 100%. Even more."
After a lengthy yet successful 2022-23 campaign with the Denver Nuggets, Jokic declared his unavailability for Serbia at the World Cup, citing the ample need to rest after a grinding golden run with his franchise.
From this, many have raised their doubts about the chances of the Eagles capably competing at the highest level at the international basketball's biggest stage. But in the end, they silenced their critics.
Powered by team captain Bogdan Bogdanovic and guided by the mentorship of the legendary mentor Svetislav Pesic, the Serbian squad aced the Group Phase by compiling a 4-1 round. Upon reaching the quarterfinals, they easily minced to dust the imposing Lithuanian team – a lone nation that stained the United States pool play record heading to the Final Round.
This Friday, Serbia channeled its magic touch anew by firing a high-powered offense to overwhelm the Canadians – draining a red-hot 62.1 percent from the field and 45 percent efficiency at the three-point line to own the contest in a massive display.
As they made history upon finding themselves back at the championship scenes of the World Cup for the first time since 2014, even Pesic believes that the focus of the triumph must be pointed at his mighty Serbian troops.
"I don't know if it is the right moment to talk about [Nikola] Jokic," Pesic said.
"I can say Jokic will always be a part of the because he's the best player in the world at the moment. A great person. Now, I think, is not the time to talk too much about Jokic. Now is the time to talk about the players that are here."