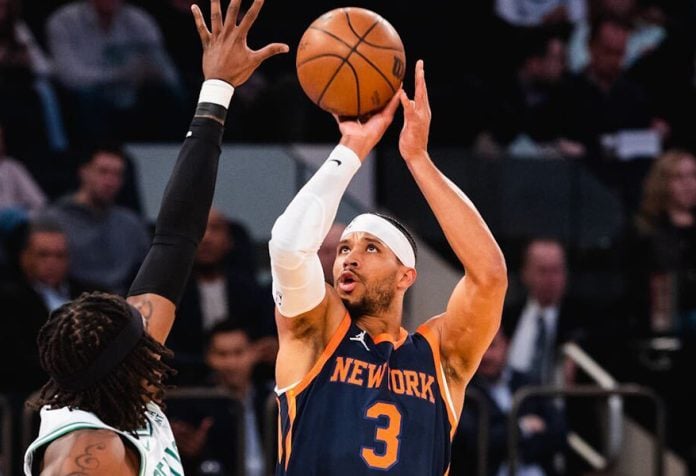 Josh Hart landed in New York last trade deadline in courtesy of the Portland Trail Blazers. And just after few weeks, he felt like being at home in the Big Apple.
Hart told Andscape's Marc J. Spears that he is eyeing to get a long-term deal with the Knicks once the offseason market hits.
"I want bigger things for my wife and myself. Just find a home somewhere where we are valued and really like living there. And I think that can be New York. I would love for it to be New York and hopefully the organization feels the same way. Coming up, this contract is hopefully my biggest one, one where I'm making sure my family's fully taken care of. So, I've also got to take that into account, too."
Hart still got a $13 million player option for next season, but he is expected to not exercise it and capitalize his value for a new deal.
He can prove his case to earn a bigger paycheck upon helping the Knicks to go 12-4 since he was acquired by the team last Feb. 11. In 16 games he played for them, he is averaging points, 7.0 rebounds, 3.9 assists and 1.4 steals while draining a highly efficient 60.6 percent from the field.
"Portland was good, but it was just so far and I'm not from the West Coast. It was tough. Not on me, but more so on my wife because she's not a huge fan of flying. So, she's all the way in the Pacific Northwest, not really flying, just by herself. That was one of the things that was weighing on me a little bit, just seeing her struggle with that. So, me being gone but being close to home, it's been great.
"I was superexcited about the trade. My first call was to my wife. Oh, man, she was excited. She was freaking out a little bit because obviously she's got a doctor [in Portland], and everything is kind of situated. But once we got everything situated on that front, she was ecstatic."