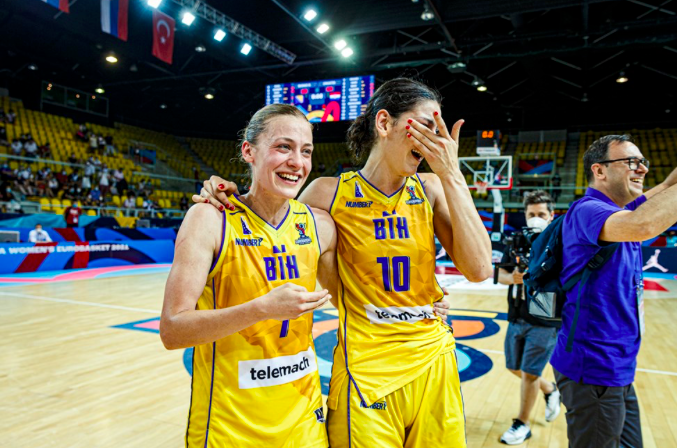 Bosnia & Herzegovina reached the last eight of EuroBasket Women for the first time following an 80-69 win over Croatia, as Wednesday's quarter-final line-up was completed.
Jonquel Jones claimed yet another monstrous double-double as she posted 24 points and 17 rebounds.
Nikolina Babic ably supported with 16 points and six assists.
"I am proud of my team. We knew it would be a tough game but we were mentally ready from the very first minute," said Bosnian guard Andjela Delic.
"We knew that we had to play defence and also we had a big motivation for the quarter-finals and the possibility of playing for the FIBA Women's Basketball World Cup Qualifying tournament."
Former Italy coach Marco Crespi came back to haunt his old team as he led Sweden to a convincing 64-46 win to stamp their ticket to the quarter-finals.
Frida Eldebrink had 22 points to lead the Swedes.
"We just went into the game and played really hard defense and made them feel uncomfortable," commented Eldebrink.
"We strived from this early feeling, moved forward and got some great looks in offense. From that point onwards, we always felt like we could win."
Reigning EuroBasket Women champions, Spain reached the quarter-finals as they cruised to a 78-51 win over Montenegro.
Spain shot 54 percent from the floor as they eased to a win, led by 19 points from Maria Conde on 7/7 shooting, supported by 17 from Astou Ndour.
Russia came away from their quarter-final qualifier unscathed, a they beat Slovenia 93-75.
Elizaveta Komarova hit 20 points from 70 percent shooting from the floor with Raisa Musina posting a double-double of 19 points and 14 rebounds.
EuroBasket Women quarter-final line-up:
Belarus vs Sweden
France vs Bosnia & Herzegovina
Belgium vs Russia
Serbia vs Spain
Photo: FIBA