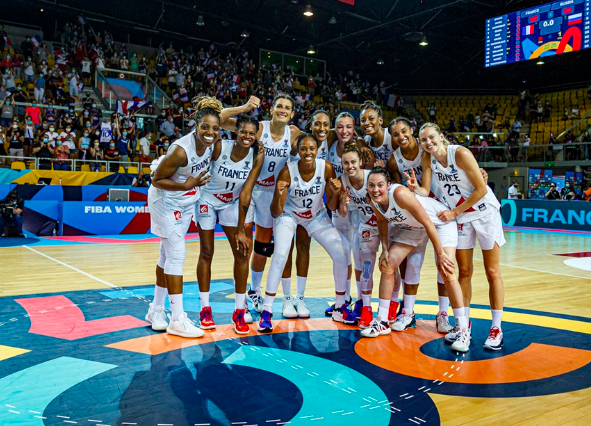 The EuroBasket Women group stages in Strasbourg and Valencia drew to a close on Sunday night as four teams booked their spots in the quarter-finals with four other knockout games determining the remaining places.
A strong second and fourth quarter landed France with a one-way ticket to the quarter-finals, following an 85-59 win over Russia in Group D.
Trailing 19-14 after the first period, the French found new life and held their Russian counterparts to just four points in the next quarter to lead 34-23 at the half.
Russia fought back in the third quarter to narrow the gap to single digits heading into the fourth, but a game-clinching 14-0 run by France in that deciding final period settled matters.
Alix Duchet, whose three-pointer started the 14-0 burst, led France with 12 points as they finish Group D with three wins out of three.
After starting the tournament with a loss, Belgium recovered with two wins from Group C, following a 63-61 win over winless Turkey.
Despite narrowing the gap to a single field goal with six seconds left, Turkey incredibly put no pressure on the Belgians as they ran out the clock to book their spot in the last eight.
Evergreen Emma Meeseman was outstanding as she posted 15 points and eight rebounds for the winners.
Alexandria Bentley's 20 point haul was enough to seal Belarus' direct passage to the quarter-finals as they ousted Sweden 78-54.
And the fourth side to seal their quarter-final spot was Serbia, who finished Group B unbeaten following an 87-75 win over Montenegro.
Fighting for their places in the last eight will be Spain, who posted a 93-61 win over Slovakia. The holders will play Montenegro tomorrow.
Despite losing to France, Russia will play on, as they take on Slovenia, who ended Bosnia & Herzegovina's unbeaten run with a 91-81 win in their final group match.
The Bosnians will face Croatia in a quarter-final qualifier as the latter ended their two-game losing streak with a convincing 84-56 win over the eliminated Czech Republic.
The final qualifier will see Italy take on Sweden as the Italians ended Greece's EuroBasket Women with a 77-67 success, thanks to 13 points from Elisa Penna.