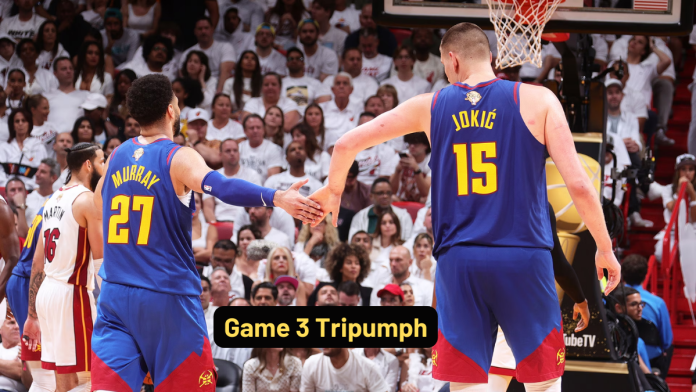 Like millions I too watched and witnessed what Jokic and Murray produced and I asked myself one question, was I baffled. No. At this level its for sure not about X's and O's anymore. As posted already "its a trust and a feel".
Nuggets' Commanding Performance: A Display of Mental and Physical Readiness
In the third game of the NBA Finals, the Denver Nuggets demonstrated an exceptional blend of mental and physical preparation. The dynamic duo of Nikola Jokic and Jamal Murray led the team with a combined 66 points, 31 rebounds, and 20 assists, including two triple-doubles. Their on-court synergy was a clear indication of their mental and physical readiness.
Jokic's performance was especially noteworthy. He achieved a 30-20-10 line in a Finals game, a first in NBA history. His consistent performance throughout the series is a clear demonstration of his mental resilience and focus. Murray, on the other hand, started strong with 20 points in the first half, then seamlessly transitioned into a give-and-go rhythm with Jokic that left the Miami Heat defenseless.
Nuggets' Mental Resilience: The Catalyst for Overcoming Obstacles
The Nuggets' victory was not solely due to their physical dominance; their mental resilience played a significant role. Despite the struggles of Michael Porter Jr. and Kentavious Caldwell-Pope, the team did not let it hinder their performance. Instead, they concentrated on their strengths and delivered a commanding performance.
This serves as a valuable lesson for all athletes. Mental resilience is not an inherent trait; it can be cultivated and developed. Every athlete has the potential to enhance their mental resilience if they are willing to do so. It is essential for athletes to approach practices with the same seriousness as games. If they fail to do so, they risk being outperformed by those who do.
Nuggets' Team Dynamics: The Blueprint for Success
Another significant aspect of the Nuggets' victory was their positive team dynamics. The Nuggets exhibited excellent communication and rhythm on the court. As Jokic stated, "We win. I think it's pretty simple." When teammates play for and off each other, they can achieve remarkable results.
Nuggets' Game 3 Victory: A Case Study for Hoops Psychology
The Nuggets' victory in Game 3 serves as an excellent example of the influence of the mind-body connection in basketball. By embracing the psychology of the game, cultivating mental resilience, and fostering positive team dynamics, the Nuggets were able to enhance their performance and secure a decisive victory.
In conclusion, the Nuggets' victory in Game 3 is a testament to the power of the mind-body connection in basketball. It's not just about physical prowess or technical skills; it's about bridging the gap between the mind and the body. By mastering this connection, athletes can enhance their performance and achieve their goals. Remember, an athlete's actions on the court reflect their character off the court. Therefore, always play hard, play smart, and play with heart.