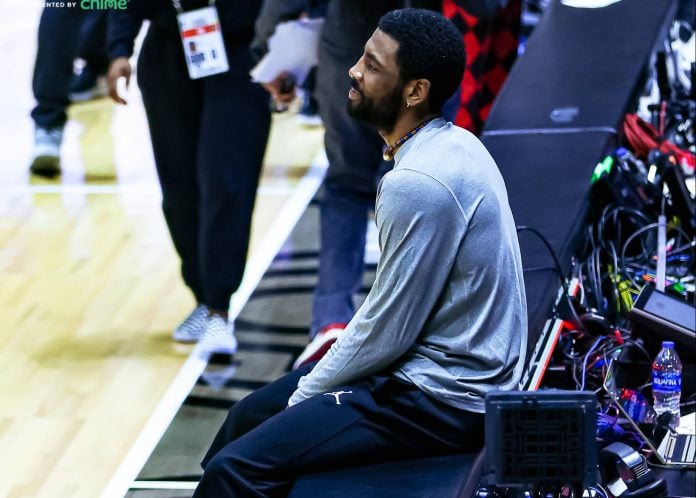 Dillon Brooks got no concern about the refusal of Kyrie Irving on his jersey offer following a thrilling 112-108 Memphis Grizzlies win over the Dallas Mavericks.
"I'm a fan of Kyrie, for everything he stands for, the way he uses his platform, his basketball game," Brooks said, via ESPN's Tim MacMahon. "When you're growing up, you want to aspire to be able to do what he does.
"He's just like Kobe. He's just like Jordan, those guys. He plays the game at a different pace. He uses both hands. Midrange god. And that's where I want to be at one day when I'll be able to shoot the ball more."
Both Brooks and Irving embraced in midcourt at the end of the game, as the fiery Grizzlies forward accepted the All-Star's no. 2 blue gear. But as he took off his jersey to meanwhile give his own, Brooks was left hanging by Irving.
"Probably get it next time," Irving said while smiling. "Not this time. I was really onto the next thing."
A few weeks ago, there was a bit of buzz between the two when Brooks shared his excitement to face Irving. Eventually, Irving was out on Dallas' back-to-back occasion against Memphis due to a nagging foot injury, as both games resulted in losses for the Mavs.
"I want to see what he's all about, so I can't wait to pick him up full every single time and see him get exhausted."
But this Monday night, both sides finally went for a face-off. Their clash was limited when Brooks mistakenly stepped on Irving's foot early in the fourth quarter. Irving tweaked his ankle and aggravated his foot issues that have been bothering his availability recently.
"I would've felt different up here if I felt Dillon did it on purpose, but I didn't," Irving said, who is wearing a walking boot as a "precautionary" measure on his right foot.
Irving poured 28 points via 10-for-24 shooting as he was smothered by the sticky and physical defense of Brooks, who had nine markers. The star guard was clamped by the notorious vet in the fourth quarter, going scoreless in nine attempts.
The Mavs drop to 36-36 and are set to face the Golden State Warriors on Wednesday. Irving expressed his optimism to help the Mavs in overtaking the defending champs for sixth place in the Western Conference. With the win, Brooks and the Grizzlies moved back to the second spot over the Sacramento Kings.