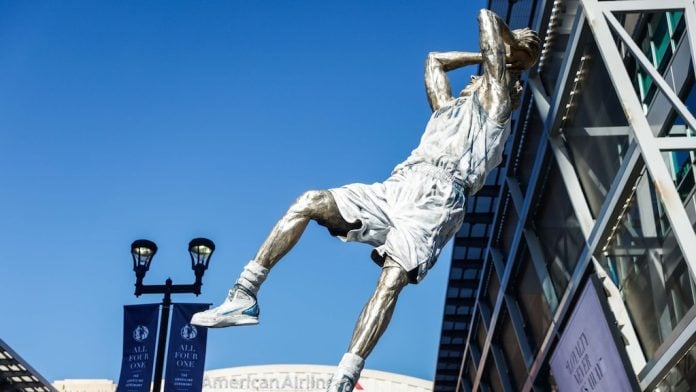 Prior to their Christmas Day matchup against the Los Angeles Lakers, the Dallas Mavericks have further immortalized their unbreakable bond with Dirk Nowitzki.
On Sunday, the Mavericks officially unveiled a statue of their franchise legend, which was promised by owner Mark Cuban to Nowitzki back on his final game in the 2018-19 season.
The ceremony was attended by Nowitzki himself, current Mavs star Luka Doncic, coach Jason Kidd, a handful of team personnel, and a flock of fans who also gave their warm appreciation to the big man.
Standing in front of the American Airlines Center, the white bronze, the near-24-foot high statue was a sculpture of Nowitzki shooting a fadeaway shot – his iconic signature move that has been, and will always be associated with him.
At the base of the statue, a one-liner phrase of "Loyalty never fades away" was written, which further highlights Nowitzki's commitment to the franchise. The former German superstar is the only player in NBA history to spend 21 years on the same team.
"I just kind of sat down, like, 'What do people associate you with in Dallas?'" Nowitzki said, per ESPN's Tim MacMahon. "It was these two things. It was the fadeaway and the loyalty. We kind of combined that. It was just a fun fact that it was 21 letters for the 21 years."
The statue was made by Omri Amrany, who was also responsible for the creation of iconic statues of Michael Jordan, Magic Johnson, Wilt Chamberlain, Jerry West, Kareem Abdul-Jabbar as well as Shaquille O'Neal.
In his whole career playing in Dallas, Nowitzki established himself as the greatest Maverick ever. He led the club to its lone title in franchise history in 2011 and was the league MVP of the 2006-2007 season.