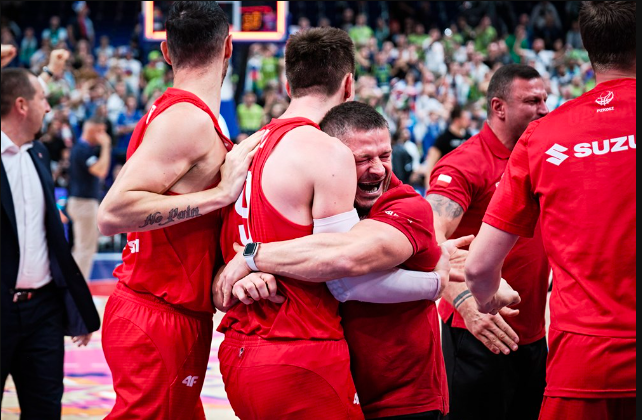 Probable hangovers this morning in Berlin. Definite hangovers in Warsaw and indeed throughout Poland.
And why not? Poland's epic 90-87 win over champions Slovenia is just the latest bar stop in a EuroBasket that is already intoxicated.
The three pre-tournament favourites: Serbia, who boasted reigning NBA MVP, Nikola Jokic and EuroLeague Final Four MVP, Vasilije Micic along with a host of EuroLeague talent – gone. Greece, led by perhaps the best player on earth, Giannis Antetokounmpo and a team of EuroLeague winners – gone.
And now, as the Poland team wake up from their night of celebration, they are coming to terms that they are EuroBasket semi-finalists, a feat not achieved since 1971.
Slovenia, a team that has the magician that is Luka Doncic and the crafty veteran Goran Dragic – gone. At the hands of the Poles.
A one-point game at 29-28 early in the second, Poland sprinted clear with a 15-1 run to take control before seeing their lead move beyond the 20-point mark that stunned a visibly fatigued Slovenian side.
Game over? Think again. Slovenia got a second wind and a 26-6 spell saw them take back the lead early in the fourth and were up by four.
Now could it be game over? No. Poland found their shooting touch again as they made the big shots when it mattered most. Doncic fouled out in the final quarter to give the Poles the opportunity to seal the win which they gladly took.
Mateusz Ponitka stepped up for Poland. Already with 16 points, 7 rebounds and 7 assists in the first half alone before shaking off a third quarter wobble to finish only the third triple-double at EuroBasket since 1995 with 26 points, 16 rebounds and 10 assists.
Not surprisingly, the vocal Polish support proudly chanted "MVP, MVP". Hey, why not?
"We were ready that it would be a tough game," Ponitka said.
"I was a little surprised, I have to admit it, that we played so great in the first half.
"It was plus-20 points against the defending champions. That was really impressive, and I knew that Slovenia have great players. We all know how great they are and how competitive they are.
"They started pressing us in the third quarter. We knew that it would be some kind of run. Maybe it was too big of a run and they went ahead.
"We talked about this in the locker room too. Try to be brave and take the next step further. We have to keep in mind we don't have that much experience because we are not too often in the quarter-finals. I'm really proud of these players."
Proud he should be. Now a date with destiny awaits. France stands between them and Europe's ultimate game.
"We are very happy where we are at and our dream goes on," proudly stated Poland coach Igor Milicic.
Photo: FIBA