Elizabeth (Huayi) Jiao has a unique job that combines her love of basketball with her passion for promoting the game.
And it's an ideal occupation for Jiao, one that utilizes her knowledge of the sport and her ability to communicate in Chinese.
As the Memphis Grizzlies' social media producer and host for the Chinese market, she is tapped into the world's biggest basketball market.

In a recent interview with Talk Basket, the 29-year-old Jiao described the unique challenges of her job, her most important projects and how she views the position as it connects with the NBA's broader mission to grow the game on a global scale.
Can you describe your job and what your current goals are on a short term and long-term basis for the Memphis Grizzlies? And does it involve some overlap with NBA Asia's and NBA China's promotional activities?
I am currently a social media producer and host with the Memphis Grizzlies for its Chinese market.
My job is supporting the Grizzlies' content marketing team to grow Grizzlies' international social media presence in China through the social media platform Weibo. Weibo is an official social media platform used by the NBA for China's market, because most of the well-known social media platforms including Twitter, Facebook (and) Instagram can't be used by Chinese fans due to the internet restrictions in China.
What else, English is not the first language of Chinese. The majority of Chinese fans are not able to understand the NBA articles or player interview videos. Weibo is developed by a Chinese company and widely used by people in China, it has the similar features of popular social media platforms such as Facebook, Instagram and Twitter.
NBA China sets the rules and goals on the Chinese market for us to refer, while NBA Asia excludes any business or campaign on the Chinese market. My short-term goal is making the Grizzlies' Weibo official account have more followers, while my long-term goal is improving the brand awareness of the Grizzlies in China.
In a basic summary, Elizabeth, what are the most important tasks you do on a weekly basis for the Memphis Grizzlies?
I serve as a social media producer and host with the Memphis Grizzlies where I host, report and create content year-round across the Grizzlies' Weibo platform, game-night productions and broadcasts, the Grizzlies' Chinese Channel, which goes behind the scenes of the Memphis Grizzlies with interviews and analysis featuring special guests like players, coaches, sports journalists and more. What else, posting Grizzlies game-related pictures and videos, engaging with fans, collaborating with a strategist on tactics aimed at improving growth, developing and implementing marketing campaigns and coordinating social contests, ensuring the successful implementation of campaigns and projects, etc. are all included in my job.
How did you wind up working for the Grizzlies? Did the team approach you? Did you see a job posting somewhere?
Before being hired by the Grizzlies, I had been a part-time Boston-based NBA report at Titan Sports China for two years. I was looking for a full-time job related to the NBA and basketball since I graduated from Northeastern University in Boston. Therefore, I just searched through LinkedIn and found the Grizzlies posted my current position there. I found I was super qualified for the position such as speaking Chinese, NBA and basketball-working experience and a sports-related master degree, etc.
I still remember it was a Sunday afternoon, I applied through the website first and I immediately searched the position-related manager on LinkedIn. I found our VP of the partnership department there. I left a message to him and got his response immediately. He recommended me to reach out my former manager, the VP of marketing department. I emailed my resume to her and got her phone interview the next afternoon. No more than one hour after the call, I got her invitation for an on-site final interview one week after. Then I flew to Memphis and finally got the job.
After my work started, my manager told me that before got my application, she planned to hire another Chinese girl. But when she got my resume, she thought my background was more qualified for the position. I share this story (because) I just want to tell people who are looking for an opportunity in sports industry that social media and being ready anytime can definitely help you.
Pros and cons of Elizabeth Jiao's job
Elizabeth, what do you most enjoy about your job? What is the most rewarding aspect of it?
I enjoy everything about my job. In fact, my life is super simple. Basketball takes more than 60% of my life. I enjoy watching games and learning from games. I also have to admit that working for an NBA team is my dream job. I could not imagine it when I was a little girl. And I am currently the only Asian who was also raised up in China among the Grizzlies business departments.
On my career side, I have been learning a lot from the Memphis Grizzlies about how a mature sports team is running its business. What else, my coworkers are so nice, especially my managers, VP of the marketing department and VP of the content marketing department. They have been supporting me a lot, not only on work but also on life.
Experiencing 'real American life'
Thousands of miles from her Chinese hometown, how has Elizabeth Jiao adjusted to life in Memphis?
The most amazing thing is that I am experiencing the real American life. I can deeply feel the American Southern culture, especially the culture of black people. The culture helped me understand why the "Grind and Grit" could become the DNA of the Grizzlies from generation to generation. I have been trying to deliver these cultures to Chinese fans through Weibo and I also found people really buy it.
Indeed, most Grizzlies fans in China may not get an opportunity to (travel to) the USA and watch a Grizzlies game in Memphis for their entire life. They are curious about how the city of Memphis looks like and its culture. Therefore, I feel like I am the bridge connecting Memphis Grizzlies and Chinese fans.
We had done a lot of things targeting on Chinese audience such as producing Grizzlies' Chinese T-shirts, setting the arena score table LED to celebrate Chinese New Year, reading the letters from Chinese fans to players and launching the Grizzlies' Chinese Channel, etc. All these activities got the compliment from Chinese fans and Grizzlies internal departments. All in all, I am so proud of what I am doing.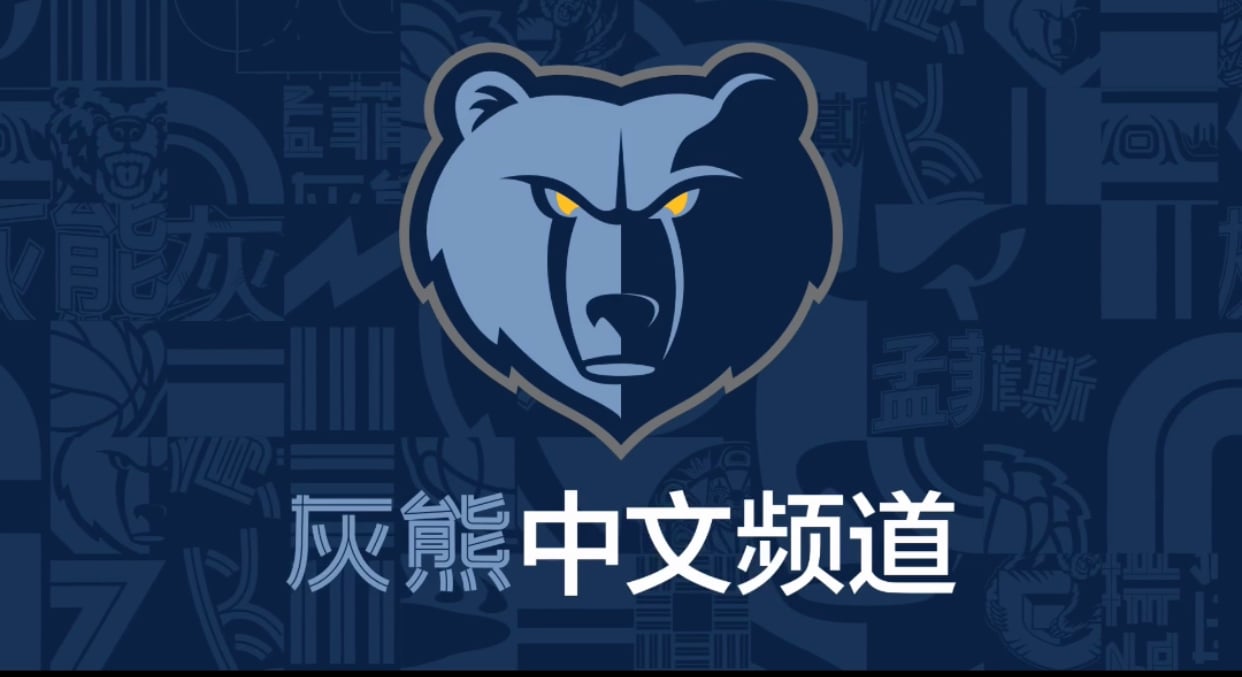 What is most challenging about your work?
Well, if I have to say something, it should be making my coworkers understand what I am doing and cooperate with me. Just like I mentioned, I am the only Asian at the Grizzlies, and Memphis is not a diverse city like NYC or Boston. Some people here have not been to Asia, which means they have no idea about neither Asian culture nor the Chinese basketball market. As a result, communicating with other departments and make them understand my goal are really essential. For example, I need to explain to the PR department why letting players greet fans in Chinese is better than letting them greet in English.
What else, I need to work with the design department in order to create specific graphics with Chinese elements. Helping the designer use the correct font and understand aesthetics of Chinese is my task. And I should do editing and translating things by myself on the Grizzlies' Chinese Channel since I am the only Chinese speaker in the organization. Nevertheless, I do not take these things as the challenges, but just part of the job. It did take time to make my coworkers understand what I do. But after working together for one season, I think all my coworkers now know what I do and would love to put 100% efforts to cooperate with me. I always appreciate that.
Are you presently traveling to Grizzlies offices each work or working from home during the pandemic?
At the beginning of the pandemic, all of the staff worked from home. Nine months later, we started the Back to the Office program and employees are allowed to work two days each week at the office. And at the same time, the FedEx Forum, the home arena of the Grizzlies, was open to the MVP membership, specific press and employees who have to work on game days. Since the pandemic has not been finished, we still need to obey the social distancing policy at the arena. Currently, I am able to cover the home games and sit at my assigned seats.
Elizabeth Jiao cultivates social media strategy
How do you set targets for social media? Does it involve some or a lot of back-and-forth talk with other members of the Grizzlies' PR and promotional teams?
My strategy is creating the content specifically connected with Chinese culture. In our culture, we attach great importance to getting the respect by countries and organizations we support. So just like you know, I hired a Chinese celebrity as the Weibo influencer, created the Grizzlies' Chinese Channel and I record videos with Grizzlies players greeting in Chinese to show the Grizzlies respect to our audience in China. Though I can't decide the player who can play for the Grizzlies, I can let the Chinese fans feel that the Grizzlies really love and appreciate them no matter who we have.
It does involve a lot of back and forth talk with other members, including the PR team, design team, tickets sales team, community engagement, etc.
Pop culture figures help promote Grizzlies
From one of your posts in recent weeks, you wrote: "We just announced that having Chinese actress Yang Zhiying as the Grizzlies Weibo Influencer in order to grow Grizzlies brand among mainland China. The official releasing post has been reposted for more than 1.5k times. #chinamarket." Indeed, the Chinese market and the Indian markets are the world's biggest, and so I'm curious if you see any possible synergy in working in pan-Asian promo projects with Japanese and Indian and Filipino staff, maybe not just targeting Grizzlies promotions but the NBA as a whole.
Currently, I am only responsible for the Chinese market. According to the data, the Chinese market takes about 25% of the NBA worldwide market. And just like I mentioned, people in Mainland China are not able to use Twitter, Instagram and speak English. Therefore, I need to spend most of my time on translating our social media content and engaging with the Chinese audience.
I definitely know now the NBA is also popular among other Asian countries, including India, the Philippines and Japan. I therefore have communicated with staffs from NBA Asia and employees working with the Wizards to learn something from their work.
Increasing name recognition
On a related point, how valuable is it to have pop culture figures such as movie stars or musicians assist in your efforts to get the word out about the Grizzlies? Is there a noticeable bump in awareness about the team because of this type of activity?
Having pop culture figures to stand for the Grizzlies was an adventure. However, the result approved the adventure was successful. I regard the Grizzlies brand as a product. It is necessary to promote the brand or product by hiring a spokesperson and interacting with pop stars in order to make more people be aware of us. I also have my own strategy on the Grizzlies' Chinese marketing. There is no doubt that the NBA in China is huge, but not all the teams have that huge market like the Warriors, Lakers and Rockets. The Grizzlies are one of the teams which don't have that huge market in China. But things got changed after Ja Morant and Yuta joined the team.
I therefore divide our marketing process into several steps. The first step is attracting NBA fans but who are not Grizzlies fans. According to the data I collected, 18% of new followers gained after the announcement are fans from other NBA teams. What else, we are also the first NBA team hiring a pop culture star as an influencer on Weibo. And what's really funny is lots of male NBA fans in China left the comment that they suggest each NBA team have a beautiful lady to be the influencer.
Have you done similar promotional events involving other celebrities for the Grizzlies?
Yes, we already achieved lots of promotional events on Weibo with other celebrities. We invited seven celebrities to record shout-out videos to the Grizzlies when the new season started. We also shipped gift and gear to some celebrities. They created the content related our product and @us on Weibo. All of content got more than 1,000 reposts and was viewed more than 1 million times.
Looking back on last season and how you focused at times on sharing content about two-way player Yuta Watanabe of the Grizzlies and Hustle (he now plays for the Toronto Raptors), can you explain the goals you had in mind for the Chinese and Asian markets? What were key aspects of this project? And what were some examples of how the public reacted to it?
I always told Yuta that he has been regarded as the Asian basketball pride. He was the only Asian-born guy in the league, except Rui Hachimura because he is mixed blood. His performance always drew the attention of Chinese fans because he will definitely be the core player of the Japanese national team who could be the one of great competitors of Chinese national team among Asia. Additionally, his stories encourage lots of basketball kids in China. I did lots of practice and game-day interviews with Yuta since fans were really curious about how Yuta adapted (to the) NBA level as an Asian player.
What else, Chinese and Japan have similar cultures, Yuta's nice personality helps him gain lots of support from China. I remembered I once reported that Yuta kept doing shooting practice after the team practice finished. The audience in China was all motivated by his mentality and efforts. What's more, almost all the kids who love basketball in China have read a Japanese basketball manga series, "Slam Dunk."
Fans in China consider that Yuta's story and appearance are really similar to the SD character Rukawa. Yuta also told me he has watched SD anime multiple times and his favorite character is Sendoh. The storytelling makes him definitely become closer to his fans in China.
Can you state briefly how your work as reporter covering the NBA for Titan Sports (2017-19) helped prepare you for your current work for the Grizzlies? Was it helpful for you in understanding the demographics and Chinese market that you now focus in your job with Memphis?
Being a reporter for Titan Sports was the key step toward my current position. My writing and reporting skills on basketball games were developed during that period. These skills and experience gave me the confidence to be the host of the Grizzlies' Chinese Channel where I interview players and analyze games. What else, I was running my personal Weibo account at the same time, I was so clear about what Chinese basketball fans love to know. This was one of the main reasons I can be hired by the Grizzlies.
Also, being a reporter makes me build great connections with people working in sports industry. For example, I invited some CBA (Chinese Basketball Association) players, and well-known sports media in China for the Grizzlies' shout-out videos. These are all my connections gained during my Titan Sports' working period.
University life paved the way for a career in sports
What are some of the most vital things you learned at Shenyang Sports University and Northeastern University that you can apply to working in the NBA and having a career focused on sports promotional and media-related activities? (Maybe there's a memorable lesson you learned from one of your classes or research projects, for example.)
I majored in sports animation for my bachelor's degree at Shenyang Sports University. It developed my video editing, sports anime design, photographing skills, which are helpful for my current position as a social media producer. What else, Shenyang Sports University, as one of the great sports universities in China, provided me with awesome opportunities to play work in sports industry. Such as being assigned as a basketball translator for LiaoNing team. The most memorable thing during that period. … I would like to say that I was selected by Nike to take part in the National "Rise" Basketball Reality Show. I was also selected as the only female player to film content with basketball star Kobe Bryant and interviewed with him by Chinese national media.
I came to the USA since I got the offer from Northeastern University graduate school. I majored in project management because I did not know that NEU has a sports leadership program. Fortunately, I am able to select some courses from the sports leadership program, such as sports media relations, sports management and ticket sales. I got the opportunity to take part in some sports industry panels and visit the offices of the Red Sox and Boston Celtics. I would like to appreciate the city of Boston where there are so many great pro sports teams. I could be hired by Titan Sports remotely also because the Celtics have a great fanbase in China.
Before becoming a sports journalist, were you a big sports fans growing up? Did you play basketball on teams? How about other sports?
Yes, I have been a crazy basketball fan and actually I played basketball in college. I was even selected to film content with Kobe Bryant by Nike when he visited China. I was also the basketball translator for former WNBA player Janel McCarville when she played in China with team Liao Ning. I am also good at swimming, running, etc., but basketball is always my favorite sport.
Living a dream
Did Yao Ming's widespread fame inspire you to push for the Grizzlies to have an ambitious plan to grow the team brand in China?
Well, I would love to say yes. I was in high school when Yao Ming was popular among the world as the Rockets player. You can't imagine how kids in China were crazy for him. I can't play basketball in the NBA like Yao Ming, but working for NBA teams and making Chinese people, especially my family and friends, be proud of me is always my goal and my dream.
Based on what's reported and or studied, do you have a number that states where the Grizzlies are in terms of popularity and/or name recognition in China among the NBA's 30 teams?
We currently have 2.8 million followers on Weibo. Weekly, according to the NBA league report, our engagement and impression data can rank top 10 of the league. However, the Grizzlies did not have a full-time person working on their Chinese market before I worked here, so the total fans number is just OK. But the growth rate has been great since I started to work here. What else, the name recognition of the Grizzlies in China is great. The majority of people from China, including me, know the city of Memphis because of the Grizzlies.