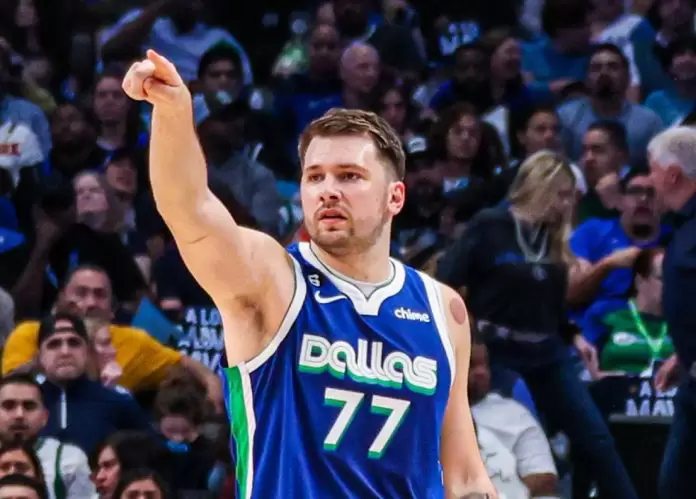 A dejected Luka Doncic entered the postgame presser to address his Dallas Mavericks' humiliating 117-109 downfall over the Charlotte Hornets inside the American Airlines Center.
Doncic, who chipped in 34 points, 10 boards, and eight assists, was unsure if the Mavs deserved the negative boos by their fans after being down by 21 late in the third.
"Probably," said Doncic when asked if the Mavericks deserved the boos.
"This season hasn't been what we thought it was going to be," he noted. "We've still got time to make it up."
The Friday loss injected a stinging sensation for the Mavs as they are still hoping to occupy a slot for the playoff this season. Dallas has gone 3-7 in their last ten games. Besides inconsistency, Doncic (thigh) and Kyrie Irving (foot) have been unfortunate in their availability down the stretch.
They now find themselves out of the play-in picture, settling for 11th place (36-38) with eight games left in their regular season.
"We got to fight hard, play harder," said Doncic. "That's about it. We got to show we care and it starts with me first. I've just got to lead this team, being better, playing harder. It's on me."
Doncic further went on to detail that he's been struggling more than ever this year and is bothered by his off-court endeavors.
The Slovenian superstar notably had an issue with his mother, Mirjam Porterbin, as both sides engaged in a legal battle regarding the control of his trademark rights. Doncic and Porterbin reportedly settled their case last December with no further details were revealed.
"I think you can see it with me on the court," Doncic said, who is also one technical foul away from an automatic one-game suspension this season. "Sometimes I don't feel it's me. I'm just being out there. I used to have really fun, smiling on court, but it's just been so frustrating for a lot of reasons, not just basketball."
Doncic and the Mavericks will look to save their season as they try to deliver a bounce back in a rematch with the Hornets on Sunday.