Being a new franchise, the Gloucester City Queens are still figuring themselves out. But this first season for them is far from merely 'making up the numbers'.
After winning their first two games in their maiden Women's British Basketball League campaign, the Queens looked down on their subjects, as they sat comfortably on the WBBL's throne.
Led by the free-scoring duo of Maura Fitzpatrick and Melita Emanuel-Carr, backed up by Marlee Ball, Claire Abbott and Spaniard, Inma Bautista, the Queens' style of basketball has impressed the league's rapidly improving fan base.
However reality has now dawned and two defeats on the bounce has left Gloucester reeling a little. The most recent a normally demoralising 117-51 loss to the London Lions, which included being on the wrong end of a 48-0 run and not scoring a single point in the third quarter.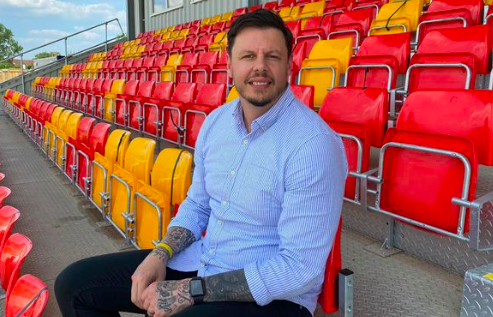 Queens coach Jay Marriott doesn't need to be lectured on London's talent and depth this season. He's well aware of it. In fact, he was relatively happy with how his team performed at half-time, despite trailing 54-34.
"The game itself was a tale of two halves," Marriott explained. "If you had asked me how I was at the half, I would have been relaxed.
"London scores the majority of their points in transition, they scored 16 points off our turnovers and we were down 20 at the half that was the ball game in a nutshell. Otherwise, we had a great half, albeit in the early stages of the first, when I felt we were a little nervous.
"Second half, we saw London go up and us drop down a level and I think that will happen to a lot of teams this season. But for me, the score line was a very unfair reflection of the talent that we have, especially one that isn't as stacked as London's."
The team entered the locker room, following the loss shocked and bitterly disappointed in themselves, Marriott admitted. But they failed to accept the defeat as "demoralising", instead stating that these kind of heavy defeats will only assist in building his team's character, making them better in the long run.
And with the next game not until November 21, the ladies have time to reflect and develop, but at the same time, eager to get back on the court and prove themselves.
"This kind of loss was a great lesson to learn I feel," Marriott said.
"No doubt, this is the level that we want to get to, that's what we want in our future and to get there, we need to see that level, we need to be playing that kind of level week in and week out and at times, we will be punished, more so as we are a new team.
"We now have a month off to really assess and analyse ourselves. And this is a good time to see where we are and what we can do going forward to make our club better and make our team better.
"Being beaten in that fashion by a team as good as London was tough but it was a lesson learned."
A chance to regroup ahead of their pending return to the court, but behind the scenes, the franchise is still working hard in order to make the new partnership with Gloucester Sport work going forward.
The partnership allows the Queens to have links to the city's football and netball clubs, they bring in decent crowds, thanks to solid marketing, especially in the local media and they still have the Gloucester City Kings in the pipeline, the latter Marriott says will "be a reality, but we don't want to rush things."
However, the one big obstacle remains outstanding and that is a certificate of sponsorship, which allows them to get Americans on work visas.
The Queens are not running before they walk though, despite having a relatively thin roster, with some players seemingly alternating playing the full 40 minutes, they're more than holding their own.
"We want to build a franchise that the people of Gloucester can be proud of," Marriott concluded. "These ladies are making the city proud."