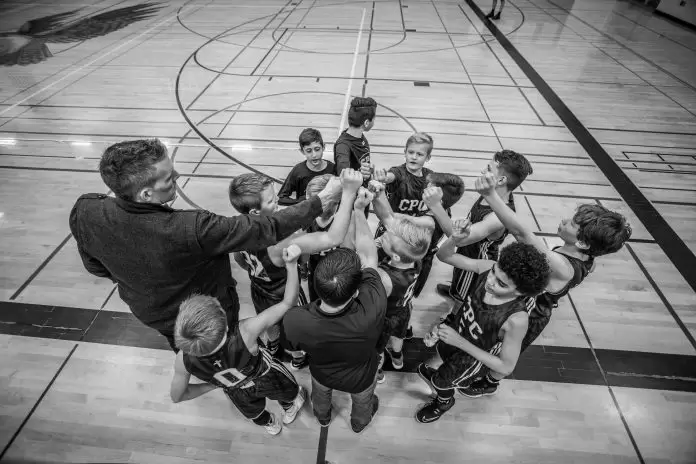 If you have a family member or friend who is a basketball coach, and you want to give him a gift, you can choose from different options in this article. Fun88 has shared some unique and outstanding gift ideas for basketball coaches! 
Basketball Tumbler: Help keep him alert 
A perfect tumbler for your favorite basketball coach should be made of stainless steel. The reason why it is one of the best gift ideas for basketball coaches is that it's designed with a basketball look. Aside from that, it can keep drinks cold for 24 hours or hot for 12 hours, which is extremely helpful for a coach, especially when he needs to do long practices. Besides, make sure to look at the tumbler that is vacuum-sealed so you don't have to worry about leaks and condensation.
Basketball Coach Keychain: Remind him every day that he is appreciated
A keychain will be a perfect gift for him! Not only does it come with a basketball charm, but also a hoop with a basketball charm. It will be best if you can find one with a meaningful line on it. When you buy this gift, it will come with a jewelry pouch and a gift box.
Picture Frame: Keep the memory for the team
A picture frame can be used to capture a photo of the team. It can easily be set upright on a shelf or desk. You can also hang it on the wall. The one with a basketball court background would be more meaningful. 
Magnetic Coaches Basketball Board: Help him get ready for the game
The magnetic basketball board allows for easy planning, which is extremely useful for basketball coaches. Usually, it comes with magnets, an eraser and dry erase markers, so your basketball coach can enjoy planning for games so much more. This one is the perfect gift for any basketball coach!
Personalized Basketball Clipboard: Ideal basketball coach accessory 
This gift looks beautiful and fun. It can be personalized and be used for running around. There is a perfect size for notes that features a basketball background. The clipboard can be written on with a dry erase marker that comes as a set.
Funny Basketball Coach T-Shirt: Practical gift
There are a lot of beautiful designs for basketball tees. You can easily find the favorite gift for your basketball coach among different colors, sizes, and graphics. Make sure that you know his figures in order to get him a perfect present!
Basketball Plaque and Award: This makes a perfect thank you gift
When you go to a year-end party, it will be ideal to bring this beautiful plaque with you and give it to your basketball coach. Most handcrafted plaques with quality natural wood come at affordable prices. They also last a lifetime. Not to mention, it arrives ready to be gifted.
For example, the Broad Bay Basketball Thank You Plaque is ideal for a year-end party gift. This plaque is one of the best gift ideas for basketball coaches that is crafted from maple. This one can be personalized with the coach's name, the school's name, the team's name, or the year. It will be an ideal present to give your basketball coach.
Coffee Mug: Let him enjoy his drinks
One of the best gift ideas for basketball coaches is the coffee mug with basketball-related designs. Not only is it a beautiful gift for your coach, but it is also an extremely practical one. Choose one that is made of ceramic with a beautiful design that is also safe for microwave and dishwasher. 
Basketball Socks: Keep his feet dry and comfortable
Your basketball coach needs a good pair of basketball socks. He can wear them at home, during practice, or while traveling. The socks should keep his feet dry and comfortable. So it's best if they are made of high-quality materials. In the market, there are plenty of basketball socks available in different sizes and colors for you to choose from. 
Epic Adventure Tours: Get his heart pumping 
If your basketball coach loves adventure, he will be interested in taking a flying lesson. Or you can find other forms of awesome practices such as piloting, skydiving, sailing, white-water rafting, race car driving, scuba diving, or going on a hot air balloon ride. Based on his interest, you know what to choose for his adventure!
Basketball Notebook: A useful item for your coach
The basketball notebook comes with a synthetic leather cover that has the same pebbled feel of a real basketball! This gift set includes a notebook, a notepad, a pen holder, and there is also a place for business cards. Your basketball coach would love to bring it everywhere with him.
Motivational Wall Print Sign: Decorate your coach's office
You can help him decorate the office by hanging a beautiful wall print sign on the wall. This is one of the most outstanding gift ideas for basketball coaches because it's printed on high-quality materials, which ensures its longevity. If you can find a nice frame to pair it with, it will be an excellent present idea!
3D Illusion Lamp: Brighten his office
The 3D lamp will be a fun and unique gift idea. There are up to seven colors for you to choose from. One set comes with a lamp and remote control. You can also create more colors in a wide variety of flashing modes by using a second button.
When this lamp is put in your basketball coach's office, it gives the illusion of a basketball floating in the air. That's why it's a unique gift that you can get for your coach!
Basketball clock: Keep your coach on time
Your beloved basketball coach would love to have a wooden wall clock. Not only does it have a beautiful design, but also it is completely silent. His office will look much better with this item.
So now you have your options when it comes to gift ideas for basketball coaches. Which one do you think that your coach will love?
Show comments