NBA veteran Isaiah Canaan is having an extremely productive rookie season in Europe with Unics Kazan. The Russian team, coached by Dimitris Priftis, can win their second EuroCup title, after lifting their first trophy in 2011 by downing Cajasol Sevilla 92-77 in the championship game in Italy.
Thei opponent will be French side Monaco, who swept Herbalife Gran Canaria, while Unics dropped the opener before taking Games 2 and 3 to oust previously undefeated Virtus Segafredo Bologna, led by Milos Teodosic and Marco Belinelli. The decisive game of the EuroCup Semifinals has gone down in history as the highest-scoring non-overtime playoff game to date in either competition organized by Euroleague Basketball since 2000. The final score of 100-107 saw Unics Kazan return to the EuroCup Finals seven years after their last appearance, but also become eligible to play in the 2021-22 EuroLeague.
The best-of-three finals series begins on Tuesday, April 27 in Monaco, with Unics hosting Game 2 and – if necessary – Game 3 at Basket Hall in Kazan.
Isaiah Canaan, turning 30 next May, began his NBA career in Houston, joining the Rockets as the 34th overall pick in the 2013 NBA draft. However, he was traded to the Sixers at the deadline in 2015, then joined the Bulls for the 2016-17 campaign after spending a season and a half in Philadelphia. He also played for Phoenix, Minnesota, Milwaukee and the Stockton Kings in the G League, before going overseas to China for the first time in his career.
Overall, the 6'1" guard posted career averages of 8.1 points and 1.9 assists in 235 NBA games. In the summer of 2020, he was dressed in the green jersey of Unics Kazan on a one-season deal, with an option for a second year. So far, Unics have finished 3rd in the VTB standings, where the Biloxi-born player has contributed to many of his team's wins.
Per EuroCup website: "Canaan has been hurting opposing teams from long range like no other player in the competition. The Unics guard enters the EuroCup Finals with a league-high 59 three-point shots made. Canaan has been one of the most reliable pieces for head coach Dimitris Priftis, whether in setting the pace and co-running the offense, or simply as a scoring threat. Starting in all but three games this season, he is second on the team in scoring (14.4 ppg.) and minutes played (26:42), and averages the third-most assists (3.1 apg.). He was huge in semifinal Game 2, when he had 19 points, 8 rebounds and 2 assists in a win over Virtus Segafredo Bologna."
TalkBasket.net sat with Isaiah Canaan for an interview on his team's accomplishments and outlook, as well as his impressions from European basketball and the NBA opportunities he was given.
Q: How are you holding up?
A: I'm good. It's my first time going to this long season and sometimes melancholy can get into you, but I got great teammates. We all are like brothers. The guys that have been over here have made it an easy season for me as far as being away from home.
Q: How are things in Unics right now, ahead of the EuroCup Finals and the most important games of the season?
A: We made it to the EuroCup Finals, so that's our focus right now. We're locked in and Monaco has been our focus over the last days. We will go out and do the things that kept us successful all season long. We took a big blow in losing Jordan Morgan, but we will figure out ways to be successful.
Q; The team has reached one basic goal, which is securing a EuroLeague spot. How has it been for you fitting in and playing with this ensemble?
A: Every game is a learning experience for me. This is the first time in my career that every game is important. In Europe, every game matters. It's been a fun experience knowing that. The organization put together a good team, a group of guys that bought into what coach Priftis was trying to get us to buy into. We all play for each other and feed off each other, displaying chemistry on and off the court. Right now, we re really looking forward to winning the EuroCup. We will worry about the VTB playoffs as soon as we finish with the finals.
Q: Since both Unics and Monaco have qualified for the EuroLeague, I guess an amount of anxiety goes out the window. Is it so?
A: We're not relaxed because we feel we're not finished. We played two good teams ahead of the championship games, Lokomotiv Kuban and Virtus Bologna. Everybody in theory thought Bologna was the better team. We respected them, but we're a great team as well. Inside we knew that we had the ability and the pieces to get the job done. That's what we pride ourselves on and worked hard all season long. Our goal is to win the title.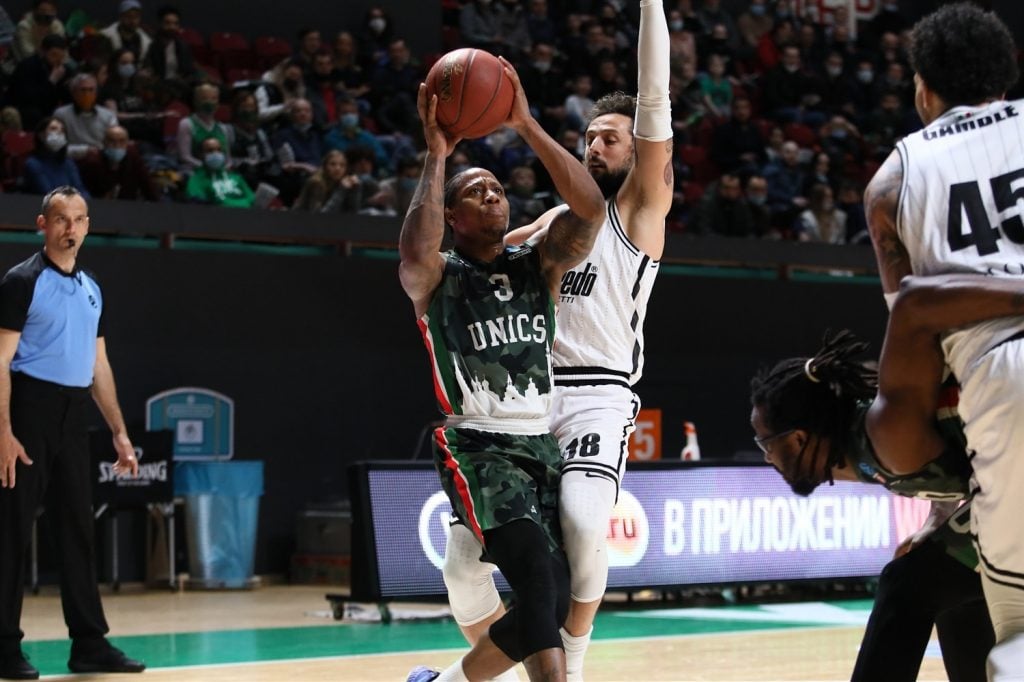 Q; The series against Virtus Bologna had a lot of emotion and impressive plays. How did you experience it and how did it feel making the tough shot that sealed the victory in the third game?
A: It was a very hard-fought series. They prepared and looked forward to that game just as much as we did. We knew what we were up against and believed that if we play the way we were capable of, we had great chances of winning. They have very good players and hats off to them for giving a battle in that series. Games like those is going to have turning moments, where the momentum can change.
Obviously, everybody want to praise the shot that I made. It was a good shot, but I work on those type of shots every day after practice. When the moment appeared, regardless of how I played before that, I lived in the moment. It was the time to make the shot and seal the victory.
But it wasn't just that shot that won us the game. We had Jamar Smith playing unbelievably for two seasons. guys like John Brown, Okaro White, John Holland. Nate Wolters hadn't played in two months and he came in and gave us good life, along with myself. For me, it was my first overseas playoffs. The games are a lot tighter in Europe. I see two or three defenders a game. The team helped me down to those games where I didn't play up to my abilities, but it doesn't always have to be my night or Jamar's night for us to win. We have won a lot of games collectively this season.
Q: So, Jamar Smith looks like the right choice for the MVP Award this year.
A: For sure, he deserves it. He's the captain of out team, he has been in EuroCup for years. So, he understands that we have new guys who haven't played at this level. He's making tough shots when we need him, being a good voice and a good captain.
Q: It's your second overseas experience after you spent a few months in China. Why did you come to Europe and to Unics of all teams?
A: It's always a tough decision to leave home and I never thought I would be playing in Russia. So, it was a big adjustment for me, but Russia has been outstanding, treating me very well. In this season, obviously it's been a lot of fun because we have been winning.
I had a good long talk with the coach before I committed on coming to the team and he said a lot of things that I felt fit me as a player. We had the same goals and interests and I felt comfortable being able to come and play for him. Most Americans don't get the opportunities that I might have had in my first season, but I was thankful to have a coach that really believed in my abilities and wanted to see me do well. I felt I was a good piece to this team that had the opportunity to win at a high level.
I also knew some of the guys that were coming to play for the team, like Okaro White and John Holland. They had their time in the NBA, so I knew them from playing against them. I saw that we had the ability to be a good team and that's all I wanted.
Q: Were any EuroLeague teams after you last summer?
I believed I had a couple of EuroLeague offers, but nobody really knew … I had never played over here – and it was a lot going on during the pandemic. Just wanted a fresh start, to get the opportunity to showcase what I can do.
Q: Is Unics playing in the EuroLeague got anything to do with your decision on staying with them or not next year?
A: I haven't put much thought into it. Obviously, if I were to stay, I would like to be a part of something that we built to get to that point. But I will focus on it as soon as the season is over.
Q: You have described the Chinese League as the most physical there is out there. After playing in Europe, have you changed your mind on the matter?
A: Europe is pretty physical, but they also have moments where they tic-tac fouls, guys do the flopping with their head and referees call that more than they call you going to the basket. I feel like there is more fouls at the rim than up top, but here it's backwards: more fouls at the top than it is down low.
But that's the way the game is in Europe, something that I had to learn and I continue to learn in every game. It's how refs call and view the game compared to how I do it. I play with a lot of passion and there's no hard feelings into it. Once the game's over, I'm a nice guy again. I got to adjust just like they have to adjust to me because they haven't seen me play before. Over time, I will learn and adjust to it.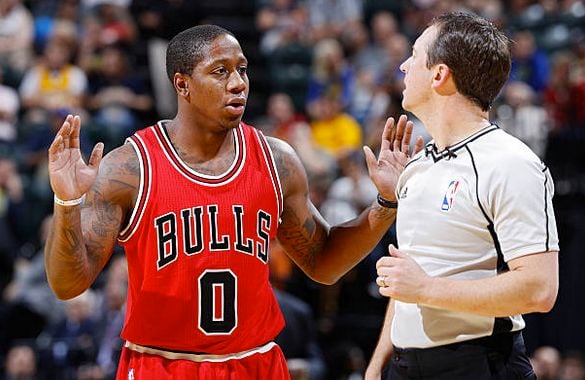 I didn't know what Euro basketball was like, just knew that the practices were crazy. I had a lot of friends that played over here. As you get older, you hear more about it, you see more and start to reach out to your friends in order to learn how it is. Early in my career, it wasn't my concern at all. Now, I'm more open-minded to it. It's all about opportunity. But it's nice; I like the Euro style of basketball because it opens our brain. You got to think a lot.
Q: Overall, which factors facilitated and which ones hindered your adjustment?
A: Just taking every game , every practice and film session as a learning experience. You try to be as perfect as you can, but we are all human and we make mistakes. So, play through your mistakes and learn from them. I also learned way to be better, eager to find solutions to the problems. Coach has done a good job at that and my teammates as well.
Q: You have played in six NBA teams, one in China and another one in Europe. That makes eight. Are you keen on finding a more stable situation?
A: In a perfect world, you would like to have one home. This is the hand that God has given me. It's all about accepting and embracing your journey, making it the best ever. Once I grasped that concept, everything started to be clear and better for me. I also started playing more freely and open-mindedly, working hard every day, not taking any game for granted because you never know when your last chance to play is going to be.
Q; To what extent have the two injuries that you had while in the NBA changed your perspective? The first was with the Rockets in your rookie year and the more serious one in 2018 with the Suns.
A: Those injuries just gave me more motivation. Going through injuries is the time for you to look yourself in the mirror and see what type of player and guy you are. I was down and out and I wanted to prove that I fight that I could come back, if not the same person, even better. So, it motivated me to want to push through, go through rehab and get back to playing the game at a high level.
When an injury comes, most teams or most NBA people write you off. It's all about somebody that believes in you and go show what you can do and not think too much about why things happen.
Q: Have you ever felt expendable in the NBA? I mean, having proven that you can play, you got waived by the Suns in 2017 and then received two 10-day contracts at Milwaukee and Minnesota.
A: I felt like the time and the opportunity wasn't really right. I was coming off my injury and no team was trying to be patient, allowing me a long period of time to showcase what I can do – or just see if I'm back to my normal self. But I didn't hold my head. I continued to do the things that made me happy, which was pursuing opportunities to where I was wanted.
Q: Mike James recently debuted with the Brooklyn Nets. How do you feel about him being given a second chance in the NBA? Do you believe that the league gives second chances?
A: Everybody's situation is different. He had moments in his career, where he probably wished would never happen or wished that those things would never come up. But the fact that he has those opportunities and those chances, it was good to see him back there playing. I am sure all he wants to do is play basketball and be somewhere where he's wanted. That's everybody's goal and dream.
Q: Who was your role model while growing up?
A: Allen Iverson was my motivation. He wasn't the tallest or the biggest player. He went out there and laid it on the line in every game, playing it as if it was his last.
Q: Have you ever felt discriminated against because of your size?
A: Obviously, people say what they want to say, but it never really bothers me. I have never been the tallest in my whole life.
Q: Is the G League a better means in order to go back to the NBA compared to Europe or China?
A: No, I believe being in Europe is the best road to go. If you are younger, you can try and experience the G League, but the older you get, you got to go where the competition is and whoever is trying to give you that chance. I don't have anything left to prove in the G League.
Q: Between D-Wade, Giannis Antetokounmpo, Jimmy Butler, James Harden and Joel Embiid, who is the better leader and why?
A: They are all different leaders in their own way. The one vet that you can say I learned the most from while I've been in the NBA was Rajon Rondo. We played the same position and he's eager to teach the younger guys the game of basketball. He's been successful throughout his whole career, a great teacher. I learned a lot from him and that's the vet that I can say I would have looked at.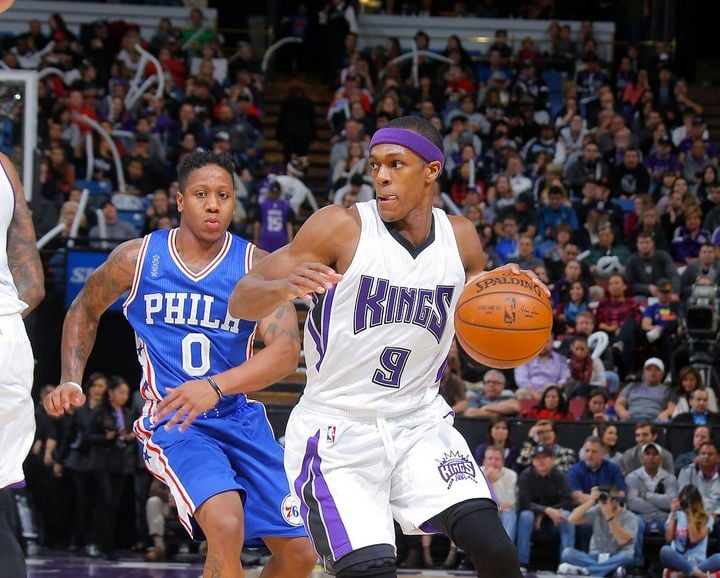 Q: Who gave you the most trouble as an opponent?
A: Marcus Smart is a great defender and Avery Bradley too. I would say those two.
Q: Does Dimitris Priftis resemble any NBA coach in terms of philosophy?
A: No, he's different from all the coaches I've had, in his own way. He's from Greece and they are more animated, just the way European coaches are. Great guy, he wants the best from you.
Q: If you could describe this season with Unics, what would you say?
A: It's been a memorable season. I will always remember it. We did a lot of great things as a team and we just want to continue to build on it. I want to see how long we can ride this train.