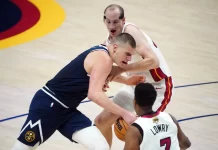 Master the art of discipline and energy in basketball. Learn from the Nuggets' Game 2 loss in the NBA Finals and improve your game
Discover the X-Factor in this season's Euroleague playoffs as we uncover the glue-guys who make winning possible. In this heartfelt tribute, we dive into the stories of Victor Claver, Fabian Causeur, Rolands Smits, Kostas Papanikolaou, Luka Mitrovic, and Sertac Sanli - exceptional athletes who embody selflessness, versatility, and unity. Learn how these unsung heroes' contributions can potentially determine the outcome of the Euroleague playoffs and inspire a new generation of players to embrace the spirit of the glue-guy.
Uncover leadership lessons hidden within the excitement of March Madness and learn how the underdog mentality can transform your team's performance. Experience the synergy of sports and leadership in this insightful blog post.