As the NBA trade deadline is fast approaching (February 6), rumours surrounding the Los Angeles Lakers have been running wild. As expected.
Center to almost every piece of speculation circling, is 24-year-old forward Kyle Kuzma. Despite his recent resurgence, Laker fans have been frustrated with his inconsistent production this campaign. Kuzma has also been sidelined with injuries, missing 9 of the Lakers' 40 games so far.
Players including Bogdan Bogdanovic of the Sacramento Kings, Davis Bertans of the Washington Wizards, Robert Covington of the Minnesota Timberwolves, and Marcus Morris of the New York Knicks, among others, have all been linked with moves to Los Angeles. With Kuzma seemingly heading in the other direction. 
Should the purple and gold give up on Kyle Kuzma so easily? Well, opinion on that is split. But here's justification on why the Lakers should keep Kuzma in their ranks, as they mount a Championship charge.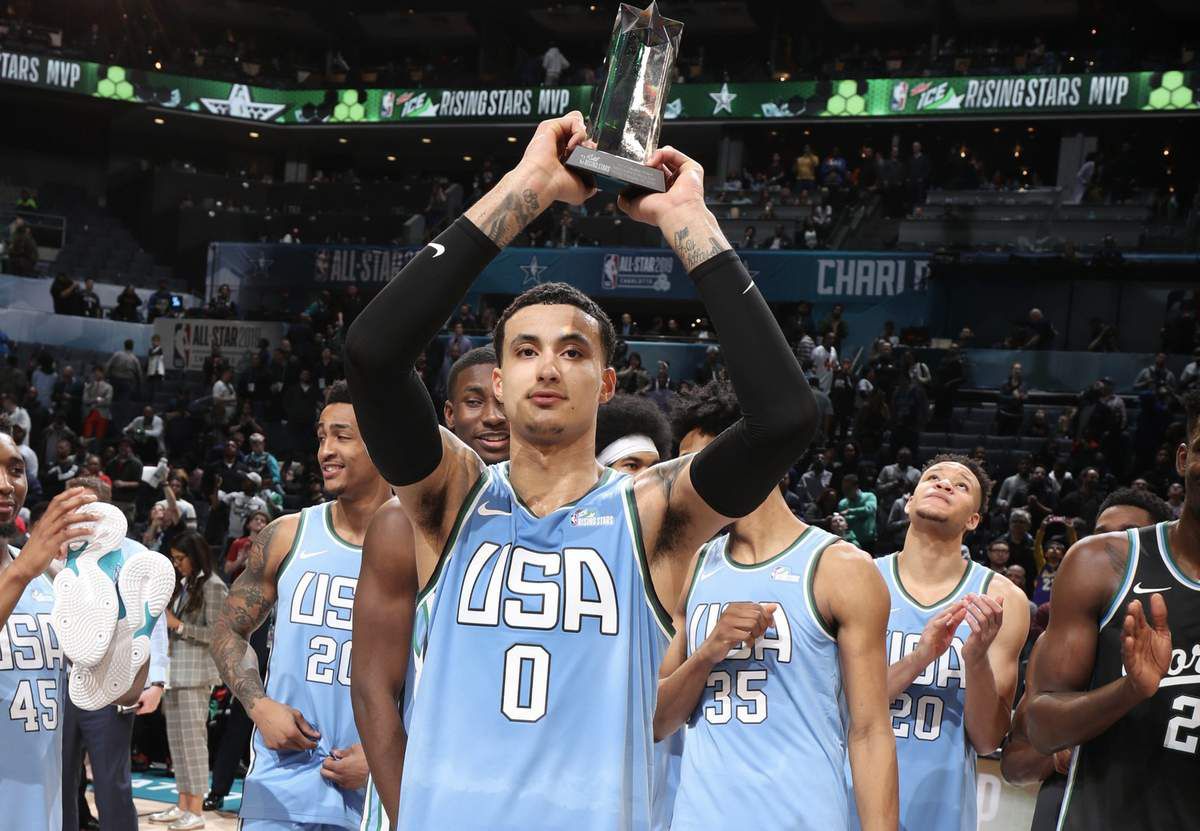 Age:
Let's not forget that Kuzma is just 24-years-old. Yes, that does suggest that he may have already reached his talent ceiling or is close to it, but he's also one of the youngest players on the current roster.
Aside from rookie Talen Horton-Tucker, and 2-way players, Kostas Antetokounmpo and Devontae Cacok, Kuzma is in-fact the youngest senior player on the Lakers. This is on a roster where the average age is 29.1, according to Real GM. The second oldest in the NBA, behind the Houston Rockets. 
This is a team that traded away almost all of their young assets and future draft picks to acquire superstar Anthony Davis this past summer. The Lakers don't really possess a young core anymore, Kuzma is the last of that.
No one knows what the future holds, so it's only smart that the Lakers keep hold of young talent that can guide them forward in the post-LeBron James years. The window for this roster is technically only this season and next. That's with Anthony Davis not even guaranteed to be around in the 2020/21 season. But many expect he will be. 
After playing in college for 3-years, Kuzma has been a late bloomer in the basketball world. One that has continued to defy the odds throughout his short NBA career so far. This is just his 3rd season in the professional ranks. Why can't he defy those odds again? Maybe he hasn't reached his ceiling just yet.
Contract:
Kyle Kuzma's contract is a steal. It's as simple as that. He's earning just $1.9 million this season and will be set to earn $3.5 million next, before hitting free-agency, most likely.
Even in a season where he is "struggling", Kuzma is putting up averages of 13.2 points and 3.8 rebounds, on 43.8% shooting, 35.3% from 3-point land. No, these numbers aren't fantastic. But they are solid for a 24-year-old player on a mere $1.9 million contract.
Let's put this into comparison with Robert Covington, who has been linked with the Lakers. Covington is in-amongst a 4-year, $46.8 million contract. He is earning $11 million this season, and $12+ million for each of the next two. His averages this season; 12.7 points and 5.7 rebounds.
Yes, Covington does out rebound Kuzma and holds advantages in the assists, blocks, and steals categories also. But why give up on a 24-year-old to acquire a 29-year-old that isn't even putting up significantly better numbers. Additionally, the shooting statistics of Covington are very similar to that of a "struggling" Kuzma.
Plus, the salaries wouldn't match. The Lakers would have to include further pieces to complete the puzzle. This is the case with almost every rumour out there. Next.
Mamba Mentality:
We've seen this for the past 3 seasons. Kuzma has that dog in him. That Mamba Mentality.
In a split second, he can turn it on and transform into an offensive monster. Recently evidenced by his 36-point outburst against the Oklahoma City Thunder.
His career-high in points was against the Detroit Pistons in January 2019, where he dropped 41 in just 3 quarters. He also holds career-highs in rebounds and assists, of 15 and 10, respectively. On his day, he can be unstoppable from an offensive standpoint. 
To compare against some of the names speculated in trade packages for Kuzma. Bogdan Bogdanovic's career-high is 31 points. Kuzma has surpassed this number 9 times in his career so far. Davis Bertans' is 31 and Marcus Morris' career-high is 38.
Even this season where he has been inconsistent, Kuzma has passed the 20-point mark on 6 occasions, and the 30-point mark once, as previously mentioned.
This past off-season, in FIBA World Cup preparation, he developed a use for his 6-foot-8 frame on the defensive end. Kuzma does look much improved on that side of the ball, unlike in his previous 2 seasons in the association.
He possesses that mentality to dig in when times get tough.
Role, Recent Production:
Kuzma's role has undoubtedly changed this season, with the additions of Anthony Davis and a whole host of veteran options. Even last season, Kuzma was the second option in terms of scoring behind LeBron James. Now he is third at the very least, if not lower.
It's not rocket science. He sees less of the ball. Could more be done from Frank Vogel's standpoint to draw up more plays to include Kuzma? Possibly, yes. But still, he's never going to see as much of the ball as he has in previous seasons.
This is partly why his averages have dropped from 18.7 points, 5.5 rebounds, and 2.5 assists, to 13.2 points, 3.8 rebounds, and 0.9 assists. That and his minutes have fallen from 33.1 in the 2018/19 season, to 24.3 so far in the 2019/20 campaign.
LeBron James averages 25.5 points per game, Anthony Davis 27.1. That's 52.6 of the Lakers' 113.9 team points. That leaves 61.3 points left to share around the roster. A roster that contains the likes of Danny Green, Dwight Howard, Kentavious Caldwell-Pope, Avery Bradley, JaVale McGee, Rajon Rondo, and so on.
With this, Kuzma has had to adapt to his new role on a now Championship contending roster. He does appear to be struggling, which was expected. He may be taking a bit longer than anticipated also, but in time he will find his feet. Remember, he is still only 24-years-old and in his 3rd season in the league.
His inconsistencies haven't exactly been hurting the team in terms of win production, have they? If anything the current roster build is perfect to allow Kuzma to go through those growing pains.
In-fact, seemingly under the radar, Kuzma has actually been producing very well in the first 7 games of 2020. In that time he is averaging 17.4 points, 4.6 rebounds, and 1.3 assists. His shooting from 3 hasn't been fantastic (32.5%) but from the field, it has been respectable (44.7%). Most impressively the above has been done on just 1.1 turnovers per game.
Just quickly going back to the offensive production with LeBron James and Anthony Davis now on the roster. Kyle Kuzma at present time is actually the Lakers' 3rd-highest scorer, by quite a stretch too. Interesting, right?
Trust His Ability, The Buyout Market:
There are a few reasons for justifying why the Lakers should avoid trading Kyle Kuzma. Instead, they should trust his ability. Guide him to grow further as a player. He is now part of a winning team for the very first time in his career. That alone will come with growing pains. Especially after being a high-volume, first or second option scorer in Laker teams of years past.
In addition, as previously mentioned, he's suffered injuries that have forced him to miss 9 games so far this season. The first of those injuries wiped out pretty much the entirety of his pre-season, missing the Lakers' summer camp. A slow start and time to sharpen up was always going to occur.
Instead, the Lakers should opt to explore the buyout market instead. A market where you don't have to throw away assets for what may only be a half-a-season rental. *Cough cough* that Ivica Zubac trade. 
Recently retired, but has now changed his mind, Darren Collison appears to be an option. As he is reportedly in-amongst a Los Angeles tug-of-war between the Lakers and Clippers. Of course, the Andre Iguodala saga is yet to be determined also. If he isn't traded by the Memphis Grizzlies, they may pull the buyout trigger.
Not including some unexpected buyouts that may occur as teams shut their rosters down for the season.