Hi all, it's me again, Natasha. I was watching some TV the other day and a horrible "secret" was suddenly revealed to me. Needles to say I was struggling whether to write about it or not, but finally my decision was to do so.

Aleks Maric, the young center of Partizan Belgrade is currently "killing" his personal opponents as he is dominating both in the Euroleague and the Adriatic League.
But where did he "acquire" his "killing" techniques, one may ask. Could it be…from his twin brother, Sylar* of the series "Heroes" (portrayed by Zachary Quinto)??!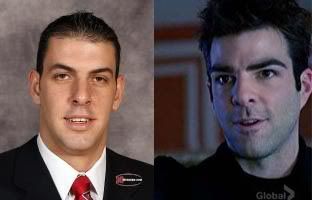 *Sylar is a serial killer with supernatural abilities roaming America on a killing streak.!