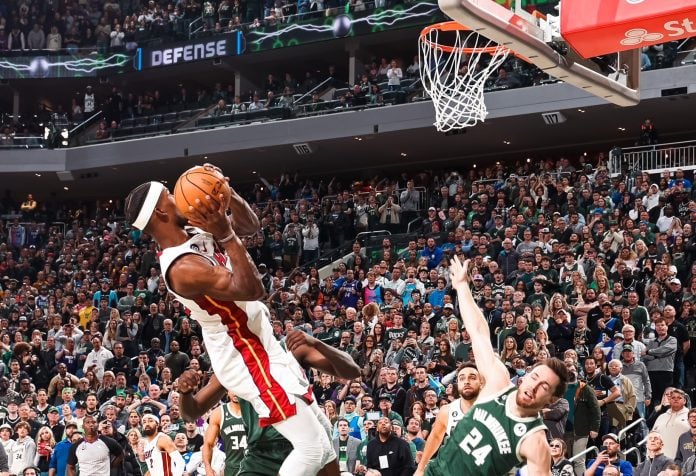 Milwaukee Bucks small forward Khris Middleton broke down to JJ Redick why the team didn't double Jimmy Butler during their 2023 first round playoff exit vs. the Miami Heat.
(via The Old Man and The Three w/ JJ Redick & Tommy Alter):
Redick: "On Jimmy [Butler], you guys didn't double him a ton. Jrue [Holiday], who is I think if not the best perimeter defender, one of the best perimeter defenders of our generation. Played with him, played against him, was guarded by him. Jrue primarily guarded him (Jimmy Butler) one-on-one, and I wanted to get some insight from you as a player that you can provide for the fans, for the listeners, for the viewers on what it's like when you're in a playoff series and another player on the opposing team is playing out of his mind?"
Middleton: "It's tough to contain sometimes. I think especially if we don't throw double teams at him. So that's one thing we talked about; just didn't do it. That wasn't the gameplan we wanted to go with. We wanted to go with Jrue because we have a lot of trust in Jrue, his track record, what he's done, and what he's known for. We have the utmost confidence in all our teammates, if they speak on something and say, 'This is what I want to do.' Especially with a guy like Jrue, we're gonna listen to him more times than not.
"Going back to that series, if you see some of the shots that Jimmy hit, they were hot. They weren't shooting like that all season long, and in that playoff series; they hit their shots at the right time. So as a player, when your teammate is known for what he does; but what's happening on the other end. With a guy like Jrue, there's not much you can say; because Jrue is playing defense at an all time high level and he's just making shots over him. I think the only thing we could've done differently to maybe change the outcome of how Jimmy played is to double team him. We didn't do it. That was a decision we made as a team, as a group. And we gotta live with that result."