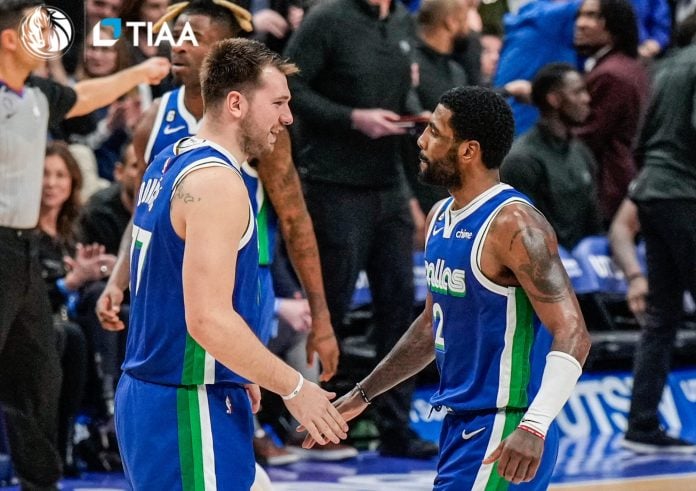 Mavericks owner Mark Cuban has come to the defense of his star duo, Luka Doncic and Kyrie Irving, amidst criticisms surrounding the team's underwhelming performance in the previous season.
When the Mavericks acquired Kyrie Irving last season, questions arose about how he would coexist with Doncic, both known for their ball-dominant playing styles.
The season did not meet the high expectations, with the team failing to secure a playoff berth and missing even the Play-In tournament, a stark contrast to their previous year's appearance in the conference finals.
Cuban, however, firmly believes that the struggles faced by the Mavericks were not due to any issues with the Doncic-Irving partnership.
On the Pat Bev Pod, he elaborated, "A lot of people don't think it [was a good fit]. So when you look at last year, we had issues that had nothing to do with Kyrie or Luka playing together.
"When they played together, they're like, 900 possessions that they played together and they were 60% net effective field goal rate plus-4-point whatever. Top 5 combo in the league when they played together."
The root of the team's woes, Cuban argued, lay elsewhere—specifically in a lack of commitment to defined roles. He drew a sharp contrast to the successful season before, where players knew and executed their roles effectively.
"Just between injuries and everything and we just didn't have a team that was committed to their roles," he said. "Like the year before when we went to the Western Conference Finals… everybody knew their role, everybody just played their role perfectly. This past year that wasn't the case. And it wasn't Kyrie ur Luka. They knew their roles.
"But once other guys started playing for themselves or not playing for the team, every mistake that you can possibly have is just magnified to no end. So we made a lot of changes this year on and off the court. We got younger, we got longer."