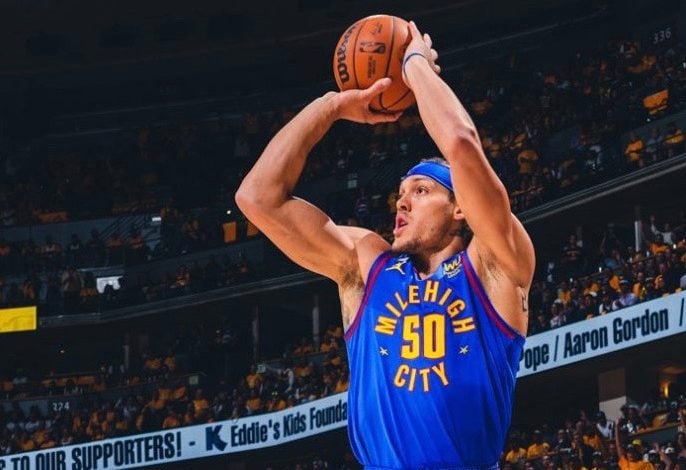 Denver Nuggets forward Aaron Gordon says that he learned a lot of valuable wisdom from his past coaches with the Orlando Magic.
(via Denver Nuggets):
Vinny Benedetto: "When you look back to the transition from Orlando to Denver, in Orlando you probably were asked to do a bit more, had the opportunity to do a bit more. Coming to Denver, was it like an instantaneous flip of the switch like, 'These are the things I need to do. I need to do some of the gritty work.' Or did that take a little bit?"
Gordon: "No, no, it wasn't too much of a switch. I think what was interesting in my first six years in Orlando, I had six different coaches, and before that it was Sean Miller at Arizona and then my high school coach. So within eight years, it was eight different coaches and a multitude of coaching staffs and training staffs. There was a lot of movement in there. In that, I got to pick the brain of brilliant coaches for maybe just a year at a time, but still, I got to pick up little pieces from Jacque Vaughn, [James] Borrego, Frank Vogel, Steve Clifford, Scott Skiles. I hope I'm not missing anybody. Sorry if I am. It'll come back around to me. But just to be able to bring some of the wisdom that they instilled on me, even for the short time we had together, the year that we had together, and then kinda bring it together to an organization like Denver where Coach Malone had already been here for a certain number of years.
"Coach Malone being here for a number of years and already having kinda like something already going, established here, a foundation. He already had a foundation and had been playing on it for three years, four years, five years. I'm not even entirely sure how long. Five years, six years maybe. Just being able to come in and be myself, that was the biggest thing. They told me from the jump, they said, 'We got you for a reason. Just be yourself and everything will work out.' And that's what it came down to. Even in the first game, it was just like a breath of fresh air just because it was like the first time I was able to just like get a back cut and then just like an easy dunk. There was just so much going on on the floor, so much spacing, and it seemed like everybody complemented each other so well."