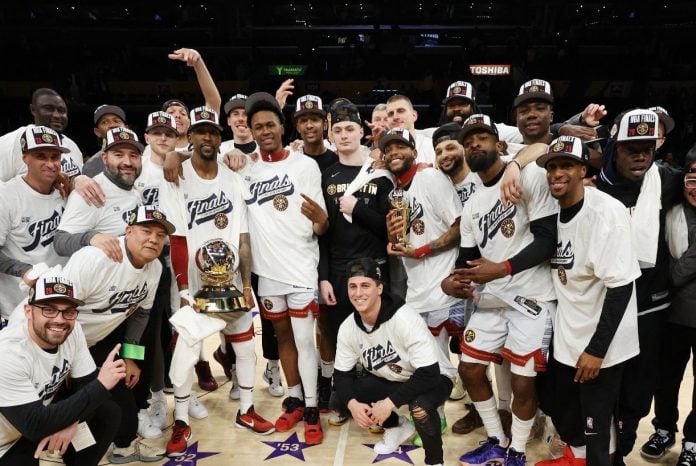 Top quotes from the Denver Nuggets at 2023 NBA Finals Media Day.
Ish Smith
Reporter: "Throughout your NBA career, when you look back at your professional journey, what does it mean to get to this point?"
Smith: "Man, it's been gratifying. I can't thank the Lord enough, to be honest with you. It's been a great ride. Like you said, it's been a long run, 13 years, 13 teams. To get to this time and this level, it feels really, really good. I'm excited about it, but we've got four more to go. I'm a kid that has always been somebody — I don't really kind of realize I'm in it until it's over with, so now that we're in it, we've just got to get four more, and I think I'll kind of soak it all in."
Michael Porter Jr.
Reporter: "You were talking about Brandon Roy, what he meant to you. What was it like being around an All-Star like that?"
Porter Jr: "He definitely means the world to me. That was my high school coach my senior year, won a state championship with him. He really helped me take my game to the next level. He didn't get on the court too much with us because of his knee. He would get out there once in a while. He could still hoop. He taught me a lot of things, how to deal with different situations off the court, on the court. But, yeah, definitely my guy. We still talk very often, so…"
Jamal Murray
Reporter: "Coach Malone a few minutes ago looked back at the end of last season, that little period of time when you were giving some thought to maybe coming back in the Playoffs. I wonder how much pressure, if any, did you feel at that time to get back? It seems certainly like the organization stood behind you and let you have your space to make the choice. Because they did that, it leads to something like this. How much did it strengthen that relationship?"
Murray: "Strengthen my knee, as well (smiling). But, yeah, it was nice to not have — obviously the outside noise can be pressure, regardless if you're healthy or not at the time. To have the team say to you, It's up to you, if you want to come back, if you're ready. If not, it's okay. We'll wait. That meant a lot, knowing that I was in no rush and that I could just focus on my health at the time. I was still working to get back. Just that mental factor of having something to strive for at the time. But wasn't there. Now you look back, my dad at the time, he didn't want me to play either, just knowing what I can do, how I should look, especially to him. He's been watching me my whole life. At the time I didn't look like that, even if I was making shots or whatever. I knew I wasn't 100%. To hear from him meant a lot more. It was a team effort in that decision."
Michael Malone
Reporter: "You recently said that when you guys first drafted Nikola, at Summer League, nobody thought he would turn into he obviously has become. Was there a moment when you realized, Oh, wow, this guy could become who he has become?"
Malone: "Yeah, there was a game in his rookie season. Just to backtrack a little bit, to Nikola's credit, once we got back from Las Vegas that first Summer League where he was a solid player, he realized at that point in time that I got to get in better shape and I have to lose weight. He did that, like, right away. I think that was a sign for me that this kid is serious about this. But there was a game in his rookie season at San Antonio. He put up a crazy stat line, I don't know, 25 or 26 points, 12 or 13 rebounds, six or seven assists against a guy like Tim Duncan. That was, for me, kind of when that light bulb went off saying, Wow, what he just did, who he did it against, on the road against this team coached by that guy, this kid has a chance to be a special player. I think the second-most-important moment in Nikola's and our history was second year when we tried to play Nikola and Jusuf Nurkic together to start that year. Did not go as well as we had hoped. I was bringing Nikola off the bench. We lost the game at Dallas. I remember having the conversation about what am I doing? This kid was All-Rookie as a center. I started him that next game, probably around December 12th, year two, and that's when our team took off. He became the focal point of everything we did. We realized that we had a player that we could build an offense and a team and an organization around. Then you draft a guy like Jamal, the pieces that we've added and you get to where we are today. It was that San Antonio game that really stood out to me about the potential that he had."
DeAndre Jordan
Reporter: "You've played for a lot of coaches in your career. What makes Michael Malone special and what do you like about him?"
Jordan: "Because he cares a lot. He's a competitor at heart. We can see the fight and tenacity that he has. He wants to win just as much as we do, and I think when you have a guy like that at the helm it's very important, and it's contagious to the players, and I think we all kind of rub off on each other. He can see what we're fired up and he's ready to go. When you've got guys like Ish who just come in and try to bring the morale down [laughter], it's great, but we have other guys that are very positive."
Nikola Jokic
Reporter: "Coach keeps comparing you to Tim Duncan, your unselfishness. How much did you look up to Tim when you were growing up? Did you actually pinpoint that selfishness and say I want to model my game after that?"
Jokic: "Model my game probably, yes, yes. Probably he's one of the best power forward players that play the game. He did with such a ease, it's really, really — I remember when he play against me, he was little bit older, but he still gave me the easiest 20 points ever in life probably. He always had a counter, but he was so patient. I think he's a great player to look up to, to model your game to him."
Reggie Jackson
Reporter: "How would you describe Nikola and Jamal's two-man game?"
Jackson: "Special. It's special. Their connection is amazing. They've been together for an amount of years. They've played each other's positions growing up, so I think just having the spectrum of Jokic starting from one, growing up and now being a five, playing like a point-center, and having Jamal starting as a big and now he's a point guard, going through that spectrum, I think they get to see the game in so many different ways. Like I said, they were special already coming in years ago, so getting to see their continuity and how it's built is just amazing. It's hard to stop. It's been fun. It's been tough playing against it in my career, and it's been fun now being a part of it and watching."
Jeff Green
Reporter: "You had some matchups with Kyle Lowry back in your day."
Green: "I won those, by the way."
Reporter: "Do you remember anything else about those matchups? What has it been like to play against Kyle?"
Green: "I love Kyle to death, man. He's been a good friend of mine. He's somebody who is a true competitor. Like you say, since college. Like I said, I won a lot of those games. He brings the best out of you. He's going to guard, compete to the high level. I've been loving his game ever since college, since he got in the league, how he plays, his approach to the game. I think I have a good record against him, so I got to keep that going."
Aaron Gordon
Reporter: "You had Karl-Anthony Towns in the first series, you had LeBron last series, you had Kevin Durant. Just as your primary responsibilities. I'm sure you're going to spend a lot of time on Jimmy Butler. What do you think of the matchup with Jimmy Butler and what are some things from the first three series that you can apply to this one?"
Gordon: "Staying out of foul trouble is going to be really crucial. Jimmy does a great job of seeking contact and getting the refs to make a decision. I've said it before, I'll say it again: I think out of everybody that you mentioned, I think Jimmy could potentially be the most complete player out of those guys. That's saying a lot. As far as the offensive package, the defensive package, the in-between too — the transition, the cuts, the offensive rebounds. He can shoot the three. He can make the three. He can make the middie. He can get to the cup. And he does it through 48 minutes. He is a difficult cover, for sure. To stay out of foul trouble is huge. Jimmy is also a really smart player. I know he's going to try to get the switch a lot so I'm not the primary defender. I'm just going to do my best to make it difficult with him. Use my size, continue to use my physicality and use my speed."
Kentavious Caldwell-Pope
Reporter: "When you look at the Heat matchup, how is it different from the first three matchups in the Playoffs that you guys have had to face?"
Caldwell-Pope: "Every series we play, they are tough opponents. They play hard regardless of what it is. This Miami team, just by watching them throughout the Playoffs, they're relentless. They don't give up. They are going to play 48 minutes and we have just got to be prepared for it."
Bruce Brown
Reporter: "Bruce, how important was Jeff Green in bringing you to Denver? How important has Jeff been on and off the floor for you guys?"
Brown: "Yeah, he's extremely important. He was one of the reasons why I came. He told me exactly the role I was going to play. When I didn't see it, he saw it. Without Jeff, I don't know if I would have been here or not. On and off the court, as I said, Jeff, when he was in Brooklyn, he was huge for me, just my mental and for the team. Him and D.J. have been great vets, just the way they carry themselves. They know how to be serious, when to make people laugh."
Christian Braun
Reporter: "How much did your experience at KU prepare you for this level of basketball, and what's the transition been like?"
Braun: "Yeah, it's been smooth. I think the Nuggets have really let me be me, and that's a big part of it. But the transition is different. There's a lot of things that are different. Preparation is different. Then just stepping into a higher level of basketball is different. I think KU obviously helps you as much as you could possibly be helped, and then being there for a couple extra years also helps, playing at a National Championship level also helps. There's a lot of things that help you, but there's not much that can prepare you for this moment and these moments, but if there was a player that was prepared, I think it would be me."