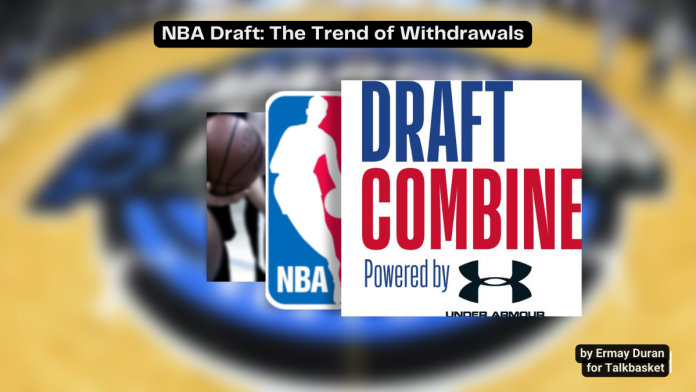 The NBA draft is an annual event that has always helped me when I was knee-deep in the league to take a closer look at talent that comes out of college, it shapes the future of basketball teams and players alike around the league and is an amazing thing. It's a pivotal moment for athletes to make their mark and step into the professional realm of basketball at the highest paid professional level possible. Its not new by all means but, an intriguing trend has caught the attention of fans and pundits – the rising number of withdrawals from the draft, I really think it does not get discussed as a part of "the process".
Understanding the NBA Draft
Every June, NBA teams get an opportunity to choose players who have never played in the NBA before. This drafting mechanism helps maintain a balance within the NBA.
Some players attend college for a year and then enter the draft – these are often referred to as "one and dones." Others play for two or three years in college or even complete their four-year term before declaring for the draft. Its become a rareity that a player plays their full college term and then heads on over to the NBA. There also are the straight out-of-high-school cases and now the G-League Ignite and NBL route are also are emerging but all that is less of what I want to get into just pointing out that options are there for players to take steps.
The Lottery System, The Combine the Workout Process
The draft has two rounds, and each round has 30 picks, totaling 60 picks. The picking order is arranged based on the teams' performance in the previous season, allowing teams with poorer records to pick before the better-performing ones.
For the teams that missed out on the playoffs, a lottery system is used to determine the order of the first three picks. The remaining teams then pick based on their records, with the team having the worst record picking next.
he NBA Combine is a crucial event that usually takes place before the NBA Draft where prospects showcase their skills in a controlled environment. It is a multi-day event where invited draft-eligible players undergo numerous physical measurements, medical tests, interviews, and five-on-five basketball drills. The aim of the combine is to give NBA teams an opportunity to evaluate the talent pool for the upcoming draft. Player performance at the combine can significantly impact their draft status as team executives, coaches, and scouts from all 30 NBA teams are in attendance. Skills tested range from basic physical attributes like height, weight, and wingspan to specific basketball skills in drills and scrimmages. The event also allows teams to interview players, getting to know their personality and mentality, which can be equally as important as their physical skills and abilities.
After the NCAA basketball season concludes, the players declare for the draft and start intensive training. They may participate in private workouts, speak to teams, and if there's significant interest, hold a pro day at their training facility.
Draft Day and the Contracts
On the draft day, 60 new players get picked to join the 450 active NBA players. The players' contracts are largely predetermined, based on a rookie scale set by the Collective Bargaining Agreement. First-round contracts last four years, with the first two years being guaranteed, and agents can negotiate up to 120% of the guaranteed value. Second-round contracts are required to receive the league minimum, but more are receiving guarantees than before.
The Trend of Withdrawals
It's not like it's not been picked up before or not entirely discussed but an interesting trend has emerged – players declaring for the draft and then withdrawing.
Just in this up and coming class along, the NBA 2023 Draft saw numerous withdrawals, including notable players such as:
#41 Dillon Mitchell
#43 Reece Beekman
#47 Zach Edey
#48 Adem Bona
#51 DaRon Holmes
#54 Coleman Hawkins
#55 Terrence Shannon
#62 Judah Mintz
#69 Trey Alexander
#71 Dillon Jones
#77 Josiah-Jordan James
#79 Jalen Bridges
#83 Tristan da Silva
#87 Arthur Kaluma
#90 Olivier Nkamhoua
#97 Isaiah Miranda
#98 NaeQwan Tomlin
This list does not even include players like Ryan Kalkbrenner and Matthew Murrell who withdrew earlier
While there can be various reasons behind this, one possible explanation is that players declare to get in front of NBA scouts and create hype. As there are no penalties for withdrawing, they can return to school, continue developing their skills, and potentially improve their draft position in future years.
However, without specific statements from the players or their representatives, it's challenging to pinpoint the exact reasons behind this trend and how it correlates to their ESPN rankings. I think holistically this should be a challenge that the NBA and the NCAA take up to address and provide clarification on. Not to place blame on any players but rather to understand the mindset of why withdraw and re-position one's self.