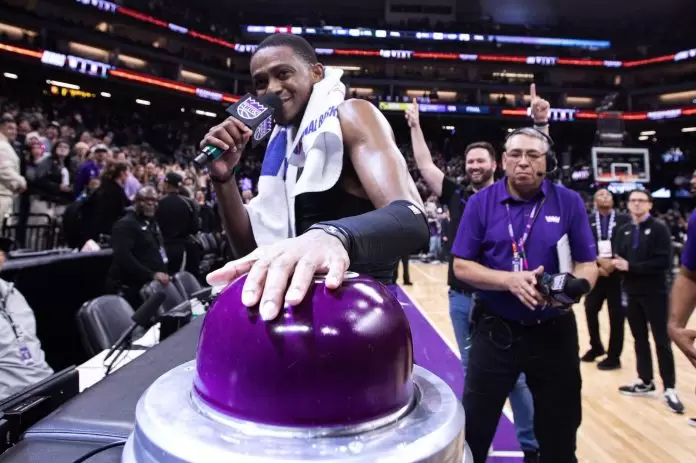 With the 120-80 Wednesday victory over the Portland Trail Blazers, the Sacramento Kings have clinched a playoff ticket for the 2023 Playoffs.
This further means that the Kings, hell dwellers of the NBA for the last 16 years, have officially ascended toward title contention. The club hasn't reached the playoff stage since the 2005-2006 season – which became the longest drought of any U.S. major professional sports team upon the qualification of Seattle Mariners for the 2022 MLB playoffs.
After a failed capturing of a spot in their 119-115 previous loss against the Minnesota Timberwolves, the Kings utilized a balanced attack against the Blazers to seal their long-awaited moment. Five players scored double-digit marks, with Malik Monk leading the way off the bench with 19 points and six assists. Domantas Sabonis churned a double-double of 15 points and 12 boards, while Keegan Muray had 13 and surpassed Donovan Mitchell for most threes made by a rookie in a season.
Sacramento's previous appearance in the playoffs in 2006 features the franchise's older era being guided by Hall of Famer coach Rick Adelman. Having its lead casts of Mike Bibby, Ron Artest, Brad Miller, and Bonzi Wells, they entered the stage as the West's eight-seeders (44-38), only to come up short against the San Antonio Spurs in the first round (4-2).
Following the 05-06 season, the Kings went upside down and have become the laughingstock of the entire league due to consistent mediocrity for 16 straight seasons. From 2007 to 2022, they tallied an abysmal 36.6 win rate (467-809) courtesy of 11 different head coaches.
But this 2022-23 served as the renaissance year for Sacramento. Upon the hiring of Mike Brown for their head coaching post, the Kings rose towards relevance with their high-powered collective offense that ranks first in offensive rating (119.6), and points per game (121.0), while placed second in field goal efficiency (49.6%). The campaign also catapulted De'Aaron Fox to his first All-Star nod, with Sabonis gaining his third on one end.
With the beaming Kings set to take themselves within the playoff picture, the NHL's Buffalo Sabres and NFL's New York Jets now share the longest drought in the United States for all four professional major sports at 11 years.
"I guess this would be like relief. People can't keep saying it. It's over and done with," Fox said (h/t ESPN's Marc J. Spears). "We want to do bigger things. But [16] years, it's a long time. It feels great to get it off of us."