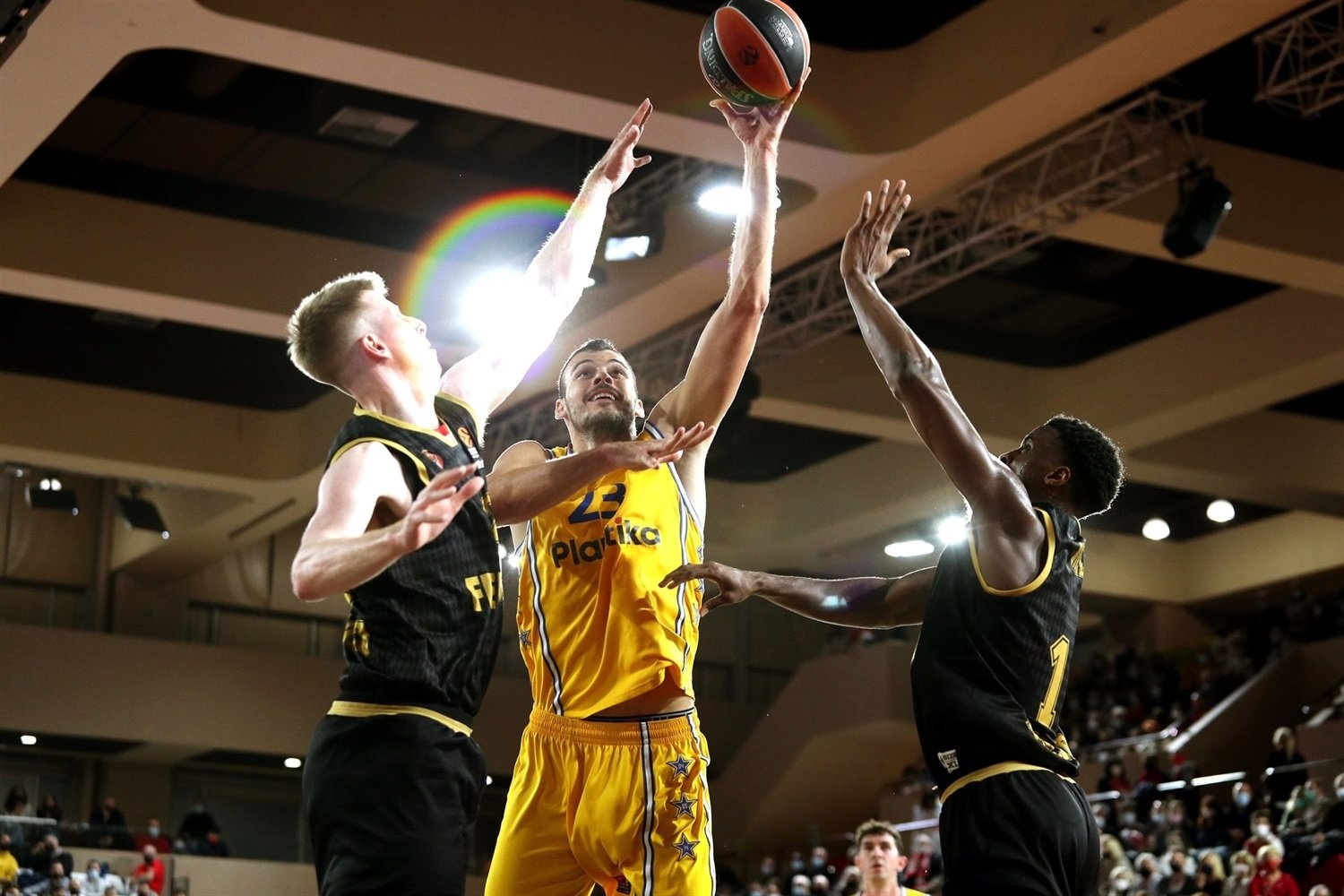 Ante Zizic played a huge role in Maccabi Tel Aviv's win that put an end to an 8-game losing streak in the EuroLeague. Zizic dominated Olympiacos' frontline, finishing the contest with a 23-point performance on 10-12 shooting while also adding six boards, two steals, one assist and a block for a total PIR of 33.
Per EuroLeague:
With Maccabi Playtika Tel Aviv in a dire need of a win to snap its eight-game losing streak, center Ante Zizic stepped up to lead the team to an 84-69 win over the visiting Olympiacos Piraeus and earn the MVP of Round 22 honor in the process. Zizic fell a point shy of his career-best scoring night, finishing this contest with a game-high 23 points on 10-for-12 two-point shooting. The Maccabi big man also collected 6 rebounds, 2 steals, 1 block and an assist, while drawing 4 personal fouls to match his career-high performance index rating of 33. Zizic is the first Maccabi player not named Scottie Wilbekin to win this award in three years. Coincidentally, his first MVP honor came 16 years after his older brother Andrija won his only such award playing for Olympiacos in Tel Aviv against Maccabi on January 5, 2006.
They become the second pair of brothers, after Ksystof and Darjus Lavrinovic, to both earn MVP of the Round. Round 22's next-best PIRs of 30 each belonged to guards Maodo Lo of ALBA Berlin and Wade Baldwin of Bitci Baskonia Vitoria-Gasteiz. Lo's 21 points, 5 rebounds, 3 steals and 2 assists weren't enough to prevent ALBA from losing at home, 74-89, to Real Madrid. Likewise, Baldwin drilled 23 points and dished 4 assists, but Baskonia fell to visiting FC Bayern Munich, 77-84. UNICS Kazan guard Lorenzo Brown came next with a PIR of 29 in his team's 70-64 home win over FC Barcelona. He collected. 22 points, 8 assists and 3 rebounds. Rounding out Round 22 best performers were Marko Guduric of Fenerbahce Beko Istanbul and Jordan Mickey of Zenit St Petersburg, each with a PIR of 27. Guduric led Fenerbahce's comeback against Zalgiris Kaunas with 19 points, 5 assists, 4 rebounds and 3 steals, while Mickey had 18 points, 5 blocks and 3 rebounds in a home loss against AS Monaco.
Individual highs: John Brown, UNICS, 7 steals
Zizic of Maccabi and Baldwin of Baskonia each poured in 23 points to lead all scorers in Round 22. FC Barcelona's Nikola Mirotic is the season's overall leader with 17.8 points per game. Tyler Cavanaugh of Zalgiris Kaunas pulled down a career-high 13 rebounds, more than any player in this round. Panathinaikos center Georgios Papagiannis tops the season-long charts with 8.0 boards per game. Lorenzo Brown of UNICS Kazan and Nick Weiler-Babb of Bayern had 8 assists each, the most in Round 22.
Mike James of AS Monaco has the top assists average, with 6.0. John Brown of UNICS had a club-record 7 steals, matching the highest individual total in any EuroLeague game in more than seven years. He also leads the steals charts for the season with 2.9 per game. Jordan Mickey of Zenit had 5 blocks to lead all players in Round 22. Walter Tavares of Real Madrid is EuroLeague's top shot-blocker this season, averaging 1.9 blocks. UNICS forward Mario Hezonja, with 11 points and 11 rebounds, and Zalgiris big man Marek Blazevic, with 10 points and 10 rebounds, had Round 22's only double-doubles.Back