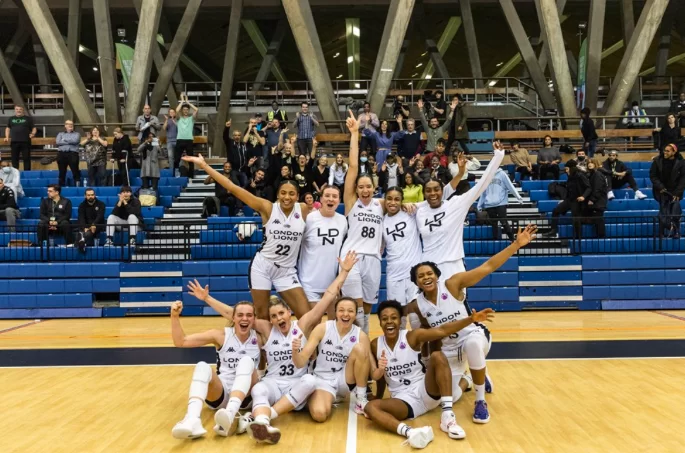 A group of lionesses of London flew the flag solo for British basketball on a day that saw the ugly re-emergence of Covid-19 damage the London Lions franchise.
As a record number of coronavirus cases were recorded today (15 December) in Great Britain, the men's team forcing to call off their FIBA Europe Cup second round clash at Avtodor Saratov due to positive cases, the women were thankfully left unscathed ahead of their EuroCup Women second-round tie with French giants Bourges Basket.
And thanks to a team-high 16 points from Jo Leedham-Warner, the Lions head to Bourges for their second leg fixture on 22 December with a 65-64 win.
But whatever the result of their next encounter may be, this is a big win for the London Lions.
The landmark fixture though did not get off to the best of starts as earlier in the week, the club's social media team incorrectly promoted the game being held at the Copperbox Arena, followed by a message for fans to get their tickets, only for there to be no link.
The game was played instead at Crystal Palace Sports Centre.
The blunder even forced guard Kennedy Leonard to reply and correct her team's post, seemingly promoting the clash for them alongside long-time Lions fan, Patrick Holgate – who is currently blocked from accessing London's Twitter page for openly speaking about his frustration about the club from last season – as he tweeted a link to the game's ticket page.
The tweet has since been taken down.
Regardless, promotions though were forgotten about once the two teams stepped on to the court.
London, who qualified for the EuroCup Women second round on the final day of group action as one of the best third placed teams, were underdogs against their established counterparts, who have won the EuroLeague Women crown three times, won this very competition back in 2016 and came into this game with a perfect six wins from their group.
Leedham-Warner, a member of that Bourges EuroCup-winning side, now a proud member of the Lions, was the team's bright spark with 11 points to lead all scorers at the end of the first half.
However, for a game that featured no less than eight Olympians, it lacked any rhythm as both teams struggled from the floor, missing a lot of open looks from both inside and out.
Bourges in particular struggled as they looked to use their size to gain an advantage but their physical style was met by a lack of execution, offensively.
And that played into London's hands as they enjoyed a 40-34 lead at the break, which they extended to eight points at the start of a third period that proved scrappy.
Trust the final quarter to bring the game to life.
This wasn't London's best showing, but for the majority, they were on top, a statement in its own right with regards to the vast improvement of the British game.
But Bourges decided to step up their game and midway through the fourth, took a 57-56 lead thanks to a basket from Elin Eldebrink. It ended a near two-minute scoring draught for both sides and it seemed to rejuvenate the visitors.
Enter Leedham-Warner. Who came back to haunt her old club, the moment Bourges gained pole position. She buried a three, then in the next possession, got steal and a score to give the Lions a 61-57 cushion and despite being pegged back towards the end, held on for a monumental win.
Leedham-Warner was helped along by 13 points from Shanice Beckford-Norton. Isabelle Yacoubou led all scorers with 17 points for Bourges.
However, the two teams will meet again, three days before Christmas at the Palais des Sports du Prado hoping for the perfect present that they can all enjoy. Bourges now know what they're up against and London will be ready.
Photo: FIBA