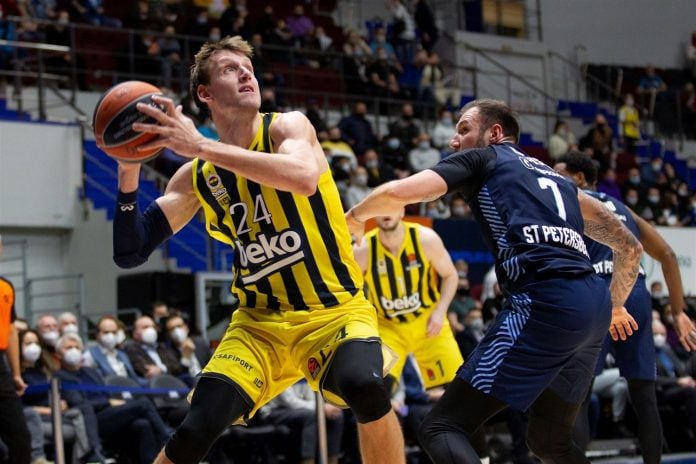 EuroLeague round 14 got underway with several interesting games and explosive performances. As two players had career-best performances to lead their teams to victories.
Jan Vesely had an amazing night to help Fenerbahce got past Zenit St. Petersburg, while a former Fenerbahce player, Nikola Kalinic propelled Crvena Zvezda over Olympiacos in the clash between teams in red-and white.
Jan Vesely leads Fenerbahce to win
Fenerbahce needed a big road win and Sasa Djordjevic's team claimed one in St.Petersburg. The Turks will have never made it without veteran big Jan Vesely.
Vesely had a night to remember with a career-best 32 points.Vesely started strong and finished having hit 9 of 11 two-pointers, 2 of 3 triples and 8 of 9 free throws.
It all contributed to a PIR of 35, which was one shy of his personal record (36). He already scored 22 of his 32 points in the first half, and he had 15 of Fener's first 16 points in the game.
"We just wanted to play our game, fight for every possession. We were missing one player today, Marko [Guduric] and didn't have our rotation with him as a creator, so we needed a couple of players to step in and take his position.
I think that in the second half, we took care of their offensive rebounds and I think that was the key. I just try to play and win games and that's what it took today. I was open, I was feeling good, so I tried to help my team as much as possible," Vesely said after the game.
Nikola Kalinic adds another impressive showing
Crvena Zvezda claimed a huge victory during EuroLeague's round 14 and put a stop to Olympiacos' three-game winning streak.
Nikola Kalinic had a big hand in his team's win on Thursday night putting up amazing numbers in the process. He had a career-high 25 points. He also tied a career-best with a performance index rating of 27.
It came just a month after he set career-highs with 22 points and a PIR of 27 in a home win over LDLC ASVEL Villeurbanne.
Kalinic added four rebounds and six assists, while he shot an efficient 8 of 13 in two-pointers and 2 of 4 from deep. He also had three makes from the free-throw line.
"I said at halftime, we needed more energy, more speed, more motivation, toughness also. We protected our basket, started rebounding better and after that, everything came," Kalinic said on the game.
"You see how we play, we help each other. Everything I did today is built on the back of everybody on the team. We are all building together and it's great to be a part of this team."
Lorenzo Brown continues amazing form
Lorenzo Brown is on a terrific run of form for UNICS Kazan in the last four games in the EuroLeague. In UNICS latest win vs Maccabi Tel Aviv, Brown was once again dominant in the perimeter.
He finished the game with 26 points, six rebounds, six assists, a steal and four fouls drawn for a PIR of 30. This was the third occasion in the last four games to score 20+ points for UNICS.
In that span, Brown is averaging 19.3 points, 4.8 rebounds, 7.0 assists per contest. UNICS has a 3-1 record during that span.
"Heart [gave us this win]. We have a great team and a lot of hard work has been made. We are working every single day and I just have to applaud my teammates, these are hard-working guys and I love it," Brown said following his team's 74-85 win over Maccabi.
Bayern's bigs dominates reigning champions Efes
Bayern Munich achieved its fourth consecutive win at home in the EuroLeague vs Anadolu Efes and its dominance in the paint played a huge role.
Bayern received great production from their bigs as Augustine Rubit and DeShaun Thomas both scored 18 points and Othello Hunter added 10 points and 7 rebounds.
The three veterans combined for 9-of-28 shooting from the field and 6-of-6 from the foul line. At the same time, Vladimir Lucic put up the effort under the basket to grab 12 rebounds, which is a career-best for the versatile forward.
"Very important. We wish the fans were here because when we need to find a way they give us that spark. We had to find a way to get that energy. It was a big win for us," DeShaun Thomas said on Bayern's victory.