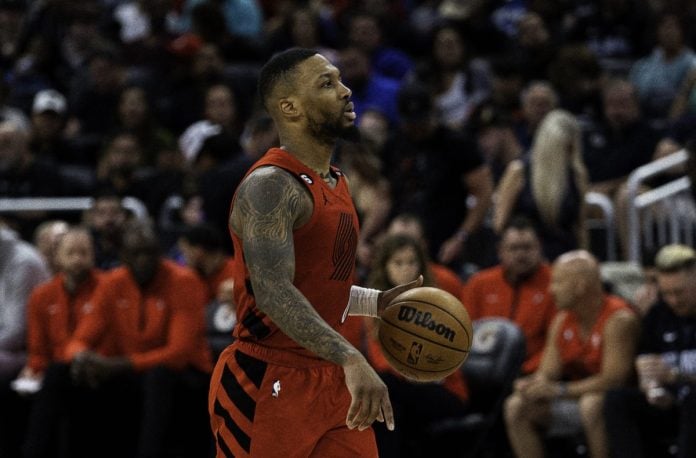 The Damian Lillard trade saga has continues with the Heat and Trail Blazers struggling to strike a deal.
As the stalemate between Portland and Miami persists, other teams have started exploring potential trade scenarios. Recent reports suggest that the Raptors have emerged as a compelling suitor for the star guard.
NBA insider Marc J. Spears provided more information on Toronto's keen interest in Lillard during an appearance on ESPN's NBA Today. He revealed:
"The hottest name that I'm hearing right now of interest is the Toronto Raptors actually. Talked to two really high ranking team executives today and they said that Toronto is a front-runner and they wouldn't be surprised if he ended up in the 6."
According to Spears, two high-ranking team executives have indicated that Toronto is a front-runner in the Lillard sweepstakes. While no trade is currently imminent, the Raptors have engaged in several conversations with the Blazers.
Toronto's history under the leadership of Masai Ujiri suggests they are unafraid to make bold moves. Ujiri successfully convinced Kawhi Leonard to join the Raptors in 2018, ultimately leading to the franchise's first NBA championship.
Unlike Leonard, Lillard has three more years left on his contract, meaning he wouldn't be able to just walk away from the team next summer like Kawhi did and joined the Slippers.
"With Dame you got a guy that's got three years left on his deal he's known to be professional, I know he would show up, I know he would play. Would he like being in Toronto?" Spears continued.
While Lillard's preference remains Miami, Toronto offers a compelling alternative. However, convincing Lillard to embrace a move to Canada might require the influence of Toronto's global ambassador, Drake.
"Think you're gonna have to get Drake to get in his ear a little bit being ambassador that he is. Toronto is a great city," Spears said.
With Ujiri's track record and Lillard's professionalism, a potential trade to Toronto is an intriguing prospect.
"Masai would surely be rolling the dice if could get this to happen. But right it's really really quiet and the people are mostly talking about Toronto sneaking in there," Spears concluded.