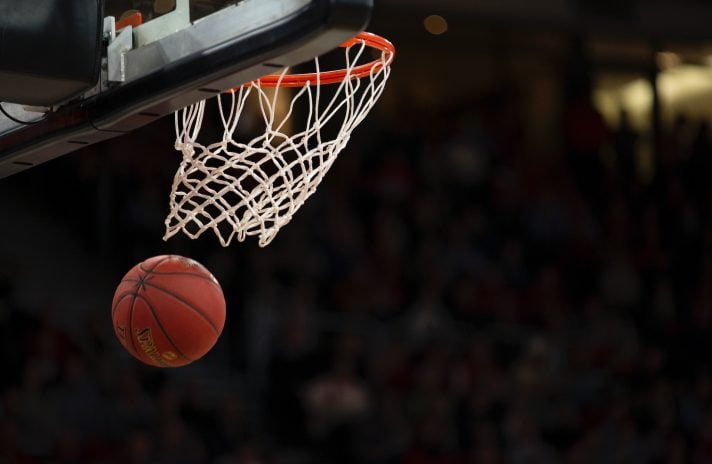 The NBA's 78th season is set to tip off with a ring ceremony.
After raising their 2023 championship banner into the rafters of Ball Arena, the Denver Nuggets will host the Los Angeles Lakers to kick off the NBA season.
Nuggets vs Lakers is a thrilling rematch of the Western Conference finals, which Denver won 4-1. With the spread at -5 for Denver on DraftKings, sportsbooks see the Nuggets as solid favorites to kick off their title defense. If you want more information on the best sportsbooks to use this upcoming NBA season, check out the betting sites presented at Overtime Heroics.
Key Facts: Lakers vs Nuggets
When: 24 Oct, 19:30 EST
Where: Ball Arena, Denver, Colorado
How to Watch: TNT, Global NBA League Pass
Lakers Offseason Review: With multiple key players from last season's playoff run set to enter free agency, the Lakers had a narrow tightrope to walk this offseason if they wanted to remain a contender. And well, they nailed it.
Rui Hachimura and D'Angelo Russell return on solid multi-year deals, and we may look back at the Austin Reaves four-year/$54 million offer as the steal of the summer. That's not even mentioning superstar Anthony Davis re-upping with an extension through 2025.
LA cut off a bit of dead weight in Mo Bamba and Malik Beasley and used their money smartly to fill out the bench. Coming over from Miami, Gabe Vincent serves as an effective Dennis Schroder replacement who can space the floor and hold his own on defense. Cam Reddish will get another case to show his tantalizing potential as a two-way wing after a stint in Portland. Furthermore, Jaxson Hayes brings a bit more athleticism and interior scoring to the backup center position. They also added some exciting young pieces in the draft, taking Indiana combo guard Jalen Hood-Schifino with the 17th pick and Pepperdine forward Maxwell Lewis with the 40th.
On paper, it seems like the Lakers brought back basically every important piece from last year's Western Conference team while adding plenty of depth across the board.
Nuggets Offseason Review: The Nuggets had a relatively quiet offseason on the surface but dig a bit deeper and you'll see that they're making smart moves to keep their championship window open as long as possible.
Without a doubt losing Bruce Brown will hurt. Brown was instrumental to last year's title run as a do-it-all guard who was the epitome of a great role player. Considering how effective he was against the Lakers; this opening night matchup will be the perfect litmus test for the Nuggets' ability to adapt without him. Jeff Green will also certainly be missed as a strong locker room presence.
In free agency, the Nuggets were practically silent outside of adding a few end-of-bench veterans. Where Denver really made key additions was through the draft.
Following the success of Christian Braun, the Nuggets have made it a point in the 2023 draft to acquire as many young players on rookie contracts as possible with the potential to make an immediate impact. Julian Strawther (Pick #29), Jalen Pickett (Pick #32), and Hunter Tyson (Pick #37) are all seasoned NCAA veterans with 12 combined seasons of college experience. They already have their stars, and Denver is making the smart play by treating the draft as a chance to get effective role players rather than the next big thing.
Now that we know what to expect from the players, what are the keys to the game?
1. How will the Nuggets respond without Bruce Brown? Brown was the quintessential glue guy for Denver last season, and his absence will surely be missed on both sides of the ball. Against LA, Brown was particularly important as a perimeter defender, making life miserable for D'Angelo Russell and Dennis Schroder. Now, with a potentially more potent Lakers perimeter game, one of Denver's trio of new rookies will have to step up and fill the void.
2. Can the Lakers score from deep? LA's Achilles' heel last season was their inability to space the floor, which came back to bite them in crucial moments. Lakers vs Nuggets in 2023 will most likely be decided by how well the Lakers can shoot the ball. New additions like Vincent, Reddish, and Taurean Prince should help alleviate this somewhat, but will it be enough to take down Denver?
3. Jokic vs AD. While Anthony Davis had his moments in the conference finals, even he struggled to slow down Nikola Jokic even a little bit. Davis being able to handle Jokic one-on-one would be a big start to slowing down Denver's offense, but that's easier said than done.
Prediction: This matchup is a great way to kick off the NBA season, and our Lakers vs Nuggets prediction is that Denver comes out on top in a close one. LA definitely look stronger than they did a few months ago on paper, but it might take a while for their new bench unit to truly gel. Meanwhile, Denver is bringing back the vast majority of their rotation and has the luxury of being led by the best player on the planet.