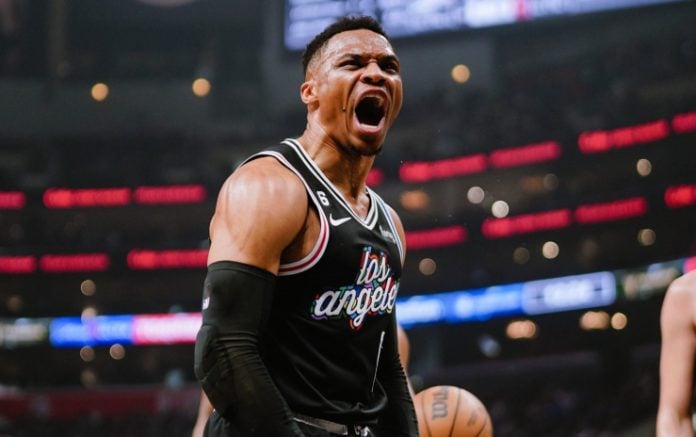 Last week Russell Westbrook faced the Lakers for the first time since leaving the team before this year's trade deadline.
The 34-year-old point guard appeared to be extra motivated in that game. He scored 14 points in 21 minutes of play as the Clippers won 125-118.
Paul George who sidelined with a knee injury watched the game closely and noticed right from the start that Westbrook wanted to make a statement.
"I saw it from the beginning Russ is going to have a big game. Russ wanted this one," George said on Podcast P with Paul George. "You can see it from the moment the ball was tipped off.
"I was specifically watching like 'let me see' because I've seen Russ when he's locked in in Oklahoma. When he firs guarded [Austin] Reaves, Reaves threw the shot, he tried to smack the sh*t out of it. I'm like 'Yeah, Russ not going for nothing tonight.'
"It was more so he just got a statement, like 'I got to put a stamp on this.' So I knew he was in good hands to start the game off. He's one of the best at just playing the game, letting it come to him and dominating in that way. So it was fun to watch. They ballin'."