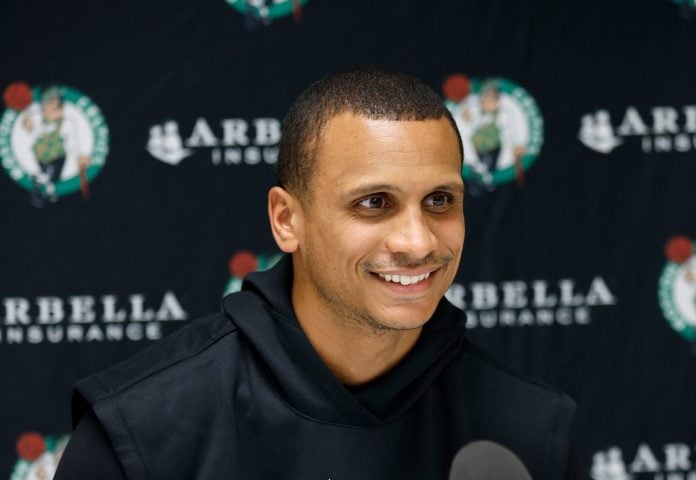 Even though he departed, Danny Ainge still got a solid love and familiarity for the Boston Celtics – the franchise that catered to his growth and success as a player and executive.
Now being head of the Utah Jazz basketball office, Ainge remains devoted to supporting the Celtics from far away and has that unwavering belief and optimism for Joe Mazzulla and Will Hardy.
Mazzulla and Hardy, two of the youngest head coaches in the league, were part of Ime Udoka's staff last year in Boston that went to the NBA Finals. Now, both of them are thriving on their respective pathways, with Mazzulla leading the title-contending C's and Hardy guiding the new era of Jazz basketball.
"I just always liked Joe's work ethic, his focus, his intelligence," Ainge said of Mazzulla, per Jay King of The Athletic. "I feel like Joe is one of those guys – one way that I've always measured greatness is how much a person can learn from mistakes they make. Joe's going to learn from his mistakes, just like (Utah coach) Will Hardy learns from his mistakes quickly. … The coaches that learn and move on, they become the legendary coaches. And I think both Joe and Will have a chance to be those."
Mazzulla took the bold responsibility of coaching the Celtics in wake of the Udoka scandal last offseason. Upon leading the club to a high ranking atop the Eastern Conference, he was eventually promoted to the team's newest head coach.
Meanwhile, Hardy inherited the coaching keys from Quin Snyder and now sits at the helm of Utah's strategic plans. With Most Improved Player candidate Lauri Markkanen, he charged the Jazz to reject initial expectations of rebuilding, sitting at 10th place in the Western Conference.