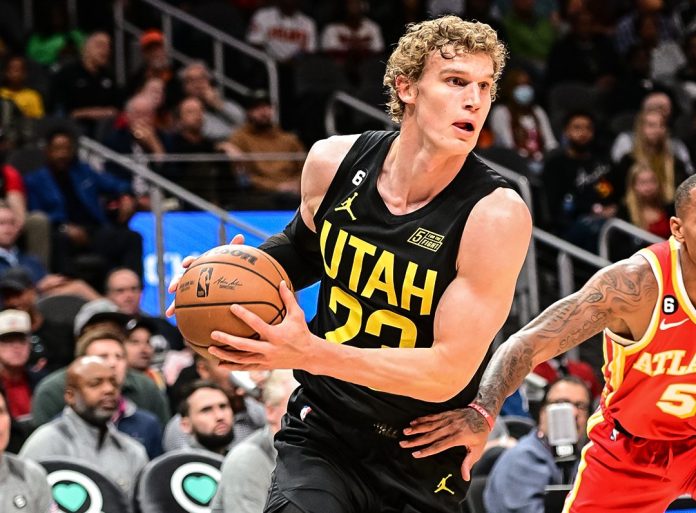 After landing at a perfect place in Utah Jazz, Lauri Markkanen has blossomed his way to becoming an All-Star. Upon this emergence, his name has been rising all season long as a candidate to watch who can bag the Most Improved Player plum.
While he is hopeful to capture it, Markkanen reiterated that he is more focused to help his Jazz club make improvements on a daily basis as he told ESPN's Nick Friedell.
"That's some extra motivation, but I'm not really thinking about it," Markkanen said of the MIP honor. "I talked about the responsibility, and I'm enjoying the challenge, and if those individual goals happen, if we keep winning games and I keep doing my thing. I go every single day to keep working, and I hope that happens, but we'll see. Just try to get these wins together and keep going from there, but obviously it would be a cool trophy to have at home, but that's not the main goal right now."
Acquired by Utah in a package last offseason that sent Donovan Mitchell to the Cleveland Cavaliers, Markkanen has all the room to finally attain his legitimate potential. And by averaging 25.4 points, 8.5 boards in 51.2 percent shooting efficiency, he has established himself as the franchise's main pillar of their new era.
With Markkanen at the front, the Jazz shattered the initial rebuild expectations of the majority after orchestrating a firesale on their previous core of Mitchell, Rudy Gobert, and Bojan Bogdanovic. Having a bright future upon stockpiling a boatload of draft assets, the club amazingly remains in the position of a potential contention – just one step below the Western Conference's Play-In race with a 32-35 card.
Drafted by the Chicago Bulls in the 2017 Draft, it took Markkanen six years to finally evolve his game of now being one of the premiere bigs in the league. The road has been rocky and filled with disappointments, but he is not planting any grudge or resentment against his past teams.
"You can always look back," he said. "I think that was the goal for everybody to stay with one team your whole career, but that doesn't really happen too often anymore. Just the way things went, I might not have been the same player I am today. I was playing the 4 position [in Chicago]. I went to Cleveland, I played the 3. Obviously, the team worked on my body so I was able to play the 3. Now we play with a big lineup, so I think things clicked.
"So I've got no bad feelings toward [my previous teams]. They were using me for what was best for them, and I wasn't the same player I am today. I wasn't that in Chicago. No bad feelings toward them. It's always fun to go back and talk to the guys."
At the end of the day, the lessons of his previous hardships will always allow the Finnish star to appreciate his journey and continue to look forward to brighter possibilities.
"I appreciate the down times, too," he said. "I think that's why I am the player that I am today, the human I am today, really. Because I was really in a dark place mentally at times just because I had the high expectations on myself and I wasn't performing. So I think just remembering the tough times makes you appreciate the All-Star nod. Getting the opportunity to be the guy at the end of the games, you appreciate that after you've had some rougher times."