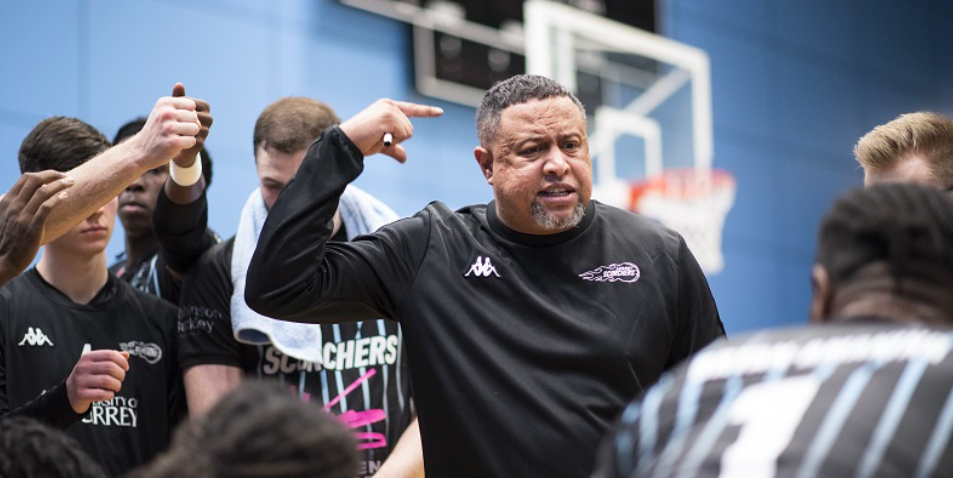 Surrey Scorchers coach Creon Raftopoulos has praised the club's supporters as the highlight ahead of what could be a very different looking team next season.
From the very start, the Scorchers have struggled with multiple players being out due to injury, with Raftopoulos having to name 14 different starting fives in 16 games as the majority of his starters have been shelved.
As a result, the Scorchers look set to finish the British Basketball League season bottom of the pile with just two wins from 19 games played and 12 points separating them and second from bottom Glasgow Rocks.
But despite a Surrey side that has fought valiantly with so many setbacks facing them, their supporters have continued to pack out the Surrey Sports Park venue with full houses throughout the season.
Loyalty, to Creon, means the world.
"The highlight of the season has been the fans," said Raftopoulos. "They have stuck with us through thick and thin and that's the biggest positive that we can take from the season.
"From the word go, it's been something that I can honestly say that I have never experienced before. But at the end of the day, people are going to look at the results and yes they haven't gone our way, but the Scorchers supporters have cheered us on regardless and have been so loyal.
"On the court, fitness has been a huge problem for us this season, getting to the point where we are now. Yes, we have a near fully fit squad with the exception of one player, but the chemistry is still not there and the other teams are almost a season ahead of us and that's the reality."
Without being able to concoct team chemistry due to injuries has hurt Raftopoulos, something he personally said he takes responsibility for.
"I am the guy that chooses the players and things haven't gone our way," he concedes. "It's on me. I'm the head coach, I keep it real and I don't shy away.
"The results have not been good enough and now that we finally have that 11-12-man rotation, it's up to the guys to step up and show the fans that they want to be here. And in turn, I can get consistent performances from the guys."
Finishing the season on a bright note is the aim with plans for next season already in place.
Raftopoulos has been chatting to different coaches across the league and even expanding to his contacts in the NBA for inspiration.
A different mind set on how the veteran coach operates and runs his team. "Being bottom of the BBL and out of playoff contention will not be happening again," Raftopoulos emphatically states.
"I have already begun work. I am fortunate to get on with the coaches in the BBL and beyond. I have spoken to Fab Flournoy with the [Toronto] Raptors; I have spoken to Rob Paternostro at Leicester [Riders], just to get their insight on recruitment and how they go about it.
"I think that I'm too nice and I want to be aggressive in my pursuit of players. I want Surrey to return to its playoff aspirations and being title contenders."
Raftopoulos highlighted that his goals are to recruit two specific imports, including a pass-first point guard and centre for next season as he looks to hit the ground running.
Current point guard, Stanley Davis Jr leads the team in scoring with an average of 16.2 points a game. The American can also play the shooting guard spot efficiently.
The centre spot though has been Raftopoulos' sore spot, with Legend Robertin out with injury, Saiquan Jamison leaving and Desmond Ringer signing in February. It's been all change with no time for proper cohesion and harmony.
Despite the short timeframe, Ringer has averaged 13 points and six rebounds in just six games, including a 20-point, 9-rebound stat-line in their last victory over the Rocks on March 14.
With just eight games left of the regular season, Raftopoulos will be aiming to give Scorchers fans some joy ahead of what will be a very different campaign next summer.
Featured image credit: Rob Sambles