London Lions romped to their first WBBL Cup with a convincing 87-47 win over the Newcastle Eagles in Birmingham on Sunday.
A London team that did it for the late Andrea Boreland, the assistant coach for their men's side and a trailblazer for female coaches, who died in October. The women had "Andrea" proudly on the front of their warm-up tops.
For London. For Andrea. And boy, she would be so proud.
Azania Stewart shot a perfect 9/9 from the field to lead the Lions with 20 points and six rebounds to claim Cup final MVP honours. (pictured above)
"I'm just really excited for our group," Stewart said to Sky Sports, post-game.
"We've been working so hard from the beginning of this season. We're just trying to put our level from EuroCup into the [WBBL], so really, really proud of our girls. I did win MVP but without my team, I'm nothing, so really excited to get the first hardware."
Lions coach, Mark Clark, added: "It feels great to get the first piece of silverware, especially after the first half of the season with the European campaign so it's a bit of a reward."
Despite an admittedly one-sided final, Newcastle battled hard. Never gave up and showed tremendous heart, which, under the circumstances is something to be proud of. Even if it won't feel like that for the players.
A different Newcastle team from the side that beat Leicester Riders in the WBBL Cup semi-finals. Internal issues within the camp saw key players Abby Lowe and Ebony Horton leave for Durham and Sheffield, respectively, with head coach Chris Bunten also departing with immediate effect.
Taking on an Eagles side that had lost their wings, coach Noelia Cachiero took her first training session 72 hours before the final and in the opening quarter, their lack of fluidity showed as Lions' defence gave Newcastle nothing easy as they only made three field goals in the first period.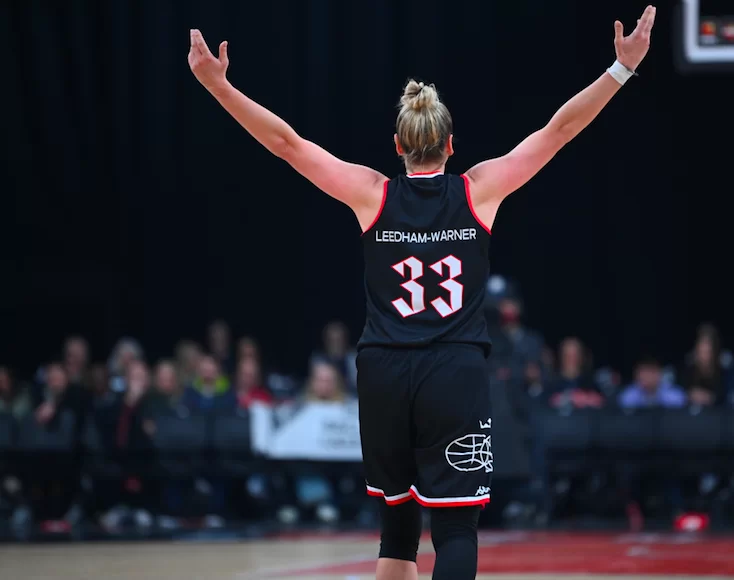 And defence was that key component in London's 18-8 lead after one. Offensively all that was missing was execution in order to pull away.
Enter Cassie Breen, who went 3/5 from deep in the first half, giving the Lions that much needed accuracy. And with Breen connecting, others followed. They drained eight three-pointers in 22 attempts that gave them a comfortable 39-18 lead at the half.
The third quarter began, unfortunately for the Eagles, the defensive pressure from the Lions continued. That turned into a 13-2 run thanks to a Kennedy Leonard three, London's tenth at that point with 6:40 left in the third, gave them a 52-20 lead.
Typical of Newcastle, they continued to fight and hung with Lions in the final quarter. Maddy McVicar, who was the ringleader in their battle, led Eagles with 16 points.
But, with both sides running their benches from the ninth minute of the third … the game was up.
Photos courtesy of Mansoor Ahmed. Please do not use without permission.