One Man and His Shoes director Yemi Bamiro says he has no idea why Sonny Vaccaro was snubbed in The Last Dance.
Vaccaro, who is featured in the newly-released documentary, was the man behind Michael Jordan's deal with Nike yet no mention of him was made in ESPN's 10-part series when the formation of the relationship between Jordan and Nike was detailed in episode 5.
In Jordan's biography, The Life, author Roland Lazenby gave a lot of background as it pertains to the basketball icon's Nike deal, revealing Vaccaro was the one who told the sportswear company to give all its money to a kid who hadn't played a single NBA game. Nike co-founder Phil Knight was said to be skeptical and it took a lot of convincing on Vaccaro's part, who replied "Yes" when asked if he was willing to bet his job on it by Nike's Howard Slusher.
Back then, Nike was known for running shoes, and getting them to sign professional basketball players was a task in itself. The company had already secured college representation, with the well-connected Vaccaro paying coaches to have their players wear Nikes all across the U.S. The company was more comfortable with getting a number of NBA stars to represent its brand but Vaccaro convinced them to give all of the money to one player, a rookie whose North Carolina team hadn't even made the Final Four the last two seasons.
Jordan, the third overall pick in the 1984 NBA Draft, was relatively unknown and wasn't nearly as popular as he would grow to be in his first season with the Chicago Bulls, yet Sonny saw something in him no one else saw.
That's why it was a complete surprise when The Last Dance failed to give him at least a mention. Vaccaro got plenty of recognition in One Man and His Shoes, though, but the director has no idea why he was completely left out of the preceding docuseries.
"I think there's the saying:'Success has many fathers'. And I think in relation to Sonny, there's been a little bit of back and forth over the years about who was responsible for what," Bamiro told Talkbasket.net in an exclusive interview. "I really have no idea why they didn't invite Sonny to talk as a contributor. I haven't seen all of The Last Dance but I know the whole series is not all about sneakers. There is one episode about Jordan becoming a brand and all of that stuff. So, I don't know. Perhaps they didn't feel like he fit in the film in any way but I don't know the ins and outs of it and I think I would be speculating if I spoke on that."
Knight does mention Vaccaro in his memoir, Shoe Dog, but it's pretty brief.
The relationship between Nike and Sonny Vaccaro ended on a sour note in 1992 and he would land the likes of Kobe Bryant and Tracy McGrady for Adidas a few years later. Of course, Nike got Kobe in 2003 but T-Mac remains under contract with Adidas to this day.
Vaccaro also famously struck a deal with LeBron James' high school St. Vincent-St. Mary, paying just $15,000 to have the school bear the Adidas logo on its uniforms, giving the company lots of publicity as LeBron was already immensely popular. However, Nike swooped in and signed LBJ when he got drafted because Adidas' bid was too low.
It's highly unlikely that Nike would become the biggest fish in the pond without that Jordan deal happening back in the 80s, a deal Bamiro says was a match made in heaven.
"I think it was a match made in heaven if I'm completely honest," he remarked. "I think if you look at the history of Nike, they're just genius marketeers. They're a marketing company that strictly sells sportswear but I think, first and foremost, they're just genius marketeers.
"I think if you take an athlete who was as incredible as Michael Jordan and you pair him with a company that's genius at marketing, then you've got a match made in heaven. I think one of the things that I was obsessed with was the blueprint of this, the blueprint of the Nike and the Jordan collaboration and endorsement deal because it was the blueprint for everything that has come after it.
"You wouldn't have a David Beckham, you wouldn't have a Tiger Woods – they wouldn't have gone so hard on LeBron James or Zion Williamson. If they have an inkling you're gonna be as good as that, they will bet it all and it's paid off on so many occasions. But I think it's been the blueprint for other athletic brands to follow. I don't know how it would have worked without one not being there. It was the perfect harmony and the perfect relationship."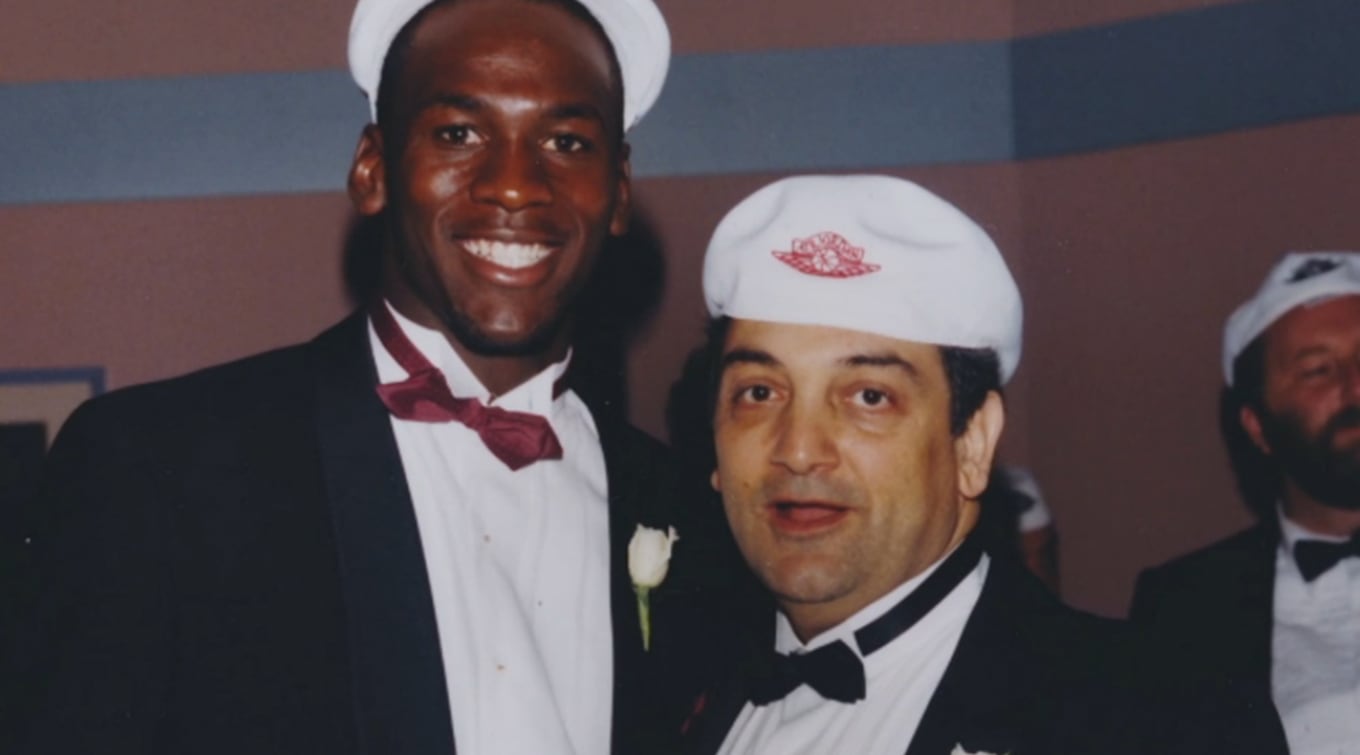 As for Vaccaro, he's now 80 and retired. But he was one of the people who fought for college athletes to get paid and the fruits of his labor are slowly coming to the fore.
His war with Nike could be the reason for his snub in The Last Dance, and Jordan – known for being fiercely loyal, especially to the company that has made him most of his millions – may have simply been following suit.