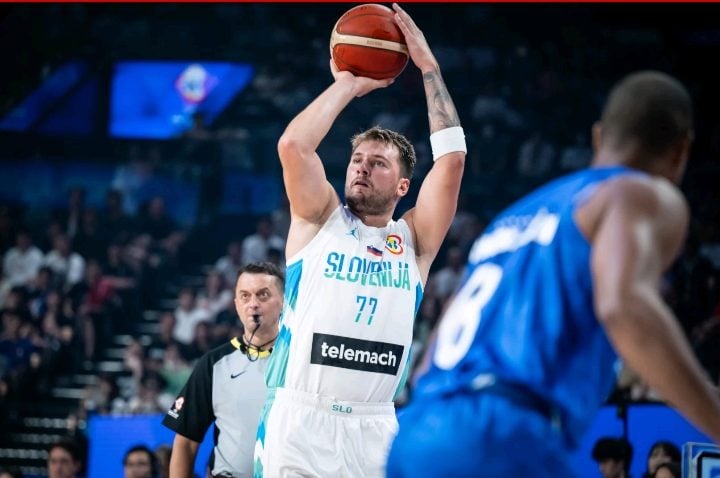 The atmosphere in the Mall of Asia Arena was charged with emotion, as 10,775 fans gathered to witness Luka Doncic's stellar all-around performance and bid a heartfelt farewell to Luigi Datome, who concluded his illustrious career.
Slovenia secured an 89-85 victory, matching their best finish from the 2014 FIBA Basketball World Cup in Spain. Italy, on the other hand, finished in eighth place, a feat they hadn't achieved since 1998.
Throughout most of the game, Slovenia maintained a slight advantage over Italy.
However, Marco Spissu's inspiring play sparked a comeback that saw Italy take an 85-83 lead with just over a minute remaining on the game clock.
Coach Aleksander Sekulic called a timeout and devised a strategic plan, and even though Italy attempted to double-team Luka Doncic, it inadvertently opened up a passing lane for him.
Doncic, with his eighth assist of the day, found Jakob Cebasek wide open in the corner.
Cebasek calmly sank his second three-pointer of the game, propelling Slovenia back into the lead. From there, Slovenia protected their advantage by making key free throws down the stretch.
Although Luka Doncic fell just short of achieving the first-ever triple-double in FIBA Basketball World Cup history, his remarkable performance in nearly 38 minutes of play was undeniable.
Doncic concluded the game with 29 points, 10 rebounds, and 8 assists.
Check out Luka Doncic's TCL Player Of The Game highlights during the Italy and Canada game at the FIBA Basketball World Cup 2023: