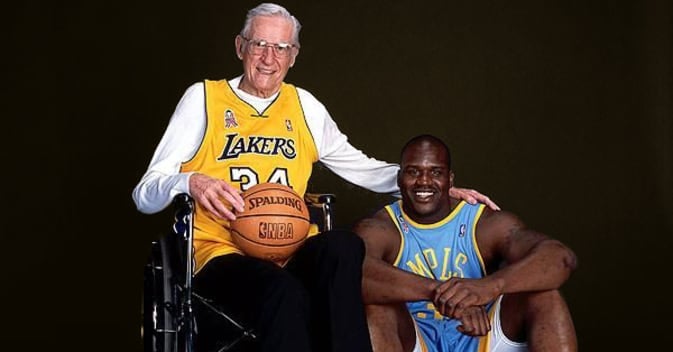 Maybe it's been long overdue, but the Los Angeles Lakers are set to give their flowers to the man who initially established their historic state as a basketball team.
On Oct. 30 against the visiting Denver Nuggets, the Lakers intend to raise the iconic No. 99 of the late great George Mikan up in the star-studded rafters of the Crypto.com Arena.
Mikan, the first official legendary and modern big man of the sport, anchored the Lakers to five NBA championships during their early years in Minneapolis. With his revolutionizing rebounding, shot blocking and scoring tactics under the glass, he is widely being considered a basketball pioneer.
He holds numerous accolades that he achieved in his illustrious basketball career as a former superstar of the National Basketball League (NBL) and Basketball Association of America (BAA). Mikan was also named to the NBA's 75th Anniversary team last season.
Known for being a tenacious giant on the court but a beloved and gentle figure outside of it, Mikan passed away on June 1st, 2005 due to complications from Diabetes and other ailments.
Other than him, the Purple and Gold will also honor Paul Gasol's No. 16 jersey this season on March 7 in a home matchup with the Memphis Grizzlies.