Home
Tags
Player development
Explore the contrasting coaching styles of Dimitris Itoudis and Pablo Laso through a player's lens. Learn how each coach uniquely impacts player development.
Ertuğrul Erdoğan's move to Runa Basket Moscow marks a new chapter in VTB League
A deep dive into the strategic decisions of Maurizio Gherardini at Fenerbahçe Beko, the highs, lows, and the future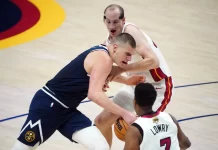 Master the art of discipline and energy in basketball. Learn from the Nuggets' Game 2 loss in the NBA Finals and improve your game
Uncover the secret behind Victor Wembanyama's health: his unconventional warm-up routine and the mastermind behind it.