The Chicago Sky championship parade... https://twitter.com/TPostMillennial/status/1450926645670555650?s=20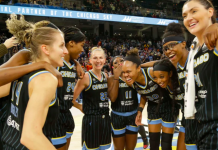 Chicago Sky won their first WNBA title by defeating the Phoenix Mercury 80-74 in a pivotal Game 4 to clinch a 3-1 series win.
Sunday's WNBA game between the Chicago Sky and Washington Mystics: https://twitter.com/ClutchPointsApp/status/1170843112857452546?s=19
Phoenix Mercury lead the series against Chicago Sky as they posted two victories in the Final series. In Game 1 Phoenix Mercury had an easy...
Chicago join Phoenix in WNBA Finals as they overcame Indiana Fever in the decisive third game. Chicago grabbed a 75-62 win as Allie Quigley...