After two promising seasons to begin his career in the NBA, Lakers forward Kyle Kuzma has taken a step back in the current campaign. After signing a 5-year deal with Puma, worth an estimated $20 million, many expected the 24-year-old to push on and be the Lakers' third star this season. Especially with the addition of Anthony Davis, and the already existing one of LeBron James. But this hasn't been the case.
In 2018/19, Kuzma averaged 18.7 points per game for the purple and gold. In 2019/20, that's dropped down to 12.5 points. Additionally, his rebounds have dropped from 5.5 to 4.5 and his assists have decreased from 2.5 to 1.3. Why is this?
Less Opportunities to Succeed:
Firstly, he is playing less minutes in the current campaign. Considerably less than his rookie season (31.2). Last time out, Kuzma featured in an average of 33.1 minutes per game. This has now gone down to 24.6 minutes.
This is mainly down to the Lakers' star-studded roster. With LeBron James and Anthony Davis eating up the majority of the forward minutes. With this, Kuzma has lost his starting spot and receives fewer touches of the ball. One-quarter of his time on the court has been shifted to the Small Forward position. A position that he played 3.5% of the time in his previous two seasons in the NBA.
While his statistics when playing the 3 aren't bad at all, the eye test suggests that it's not a position he's comfortable in. As a whole, when on the court, he looks rushed, lacks composure, and appears a step behind. Consistency as been a huge problem for Kuzma this season.
Offensively, he's shooting 43.2% from the field and 29.7% from 3-point land. Even though his 3-point shooting numbers slumped from 36.6% to 30.3% between his first and second seasons, Kuzma has found a way to reduce that number even further. Last season, Kuzma did a lot of damage alongside LeBron James, who was the facilitator. But that time has been reduced this season, with Kuzma now operating off the bench. Defensively, he's allowing opponents to convert at a 45.6% rate. Which is above the 40.8% league average.
Additionally, it appears that Kuzma hasn't slotted into a consistent lineup this season. Six times he's featured in differing line-ups, over 100 possessions. Putting that in comparison with teammate Danny Green, who has a clear role on the roster. Green has featured in five variations over 100 possessions, but his top two are for 826 and 546 possessions, respectively. Kuzma's top number sits at 286 possessions.
This suggests that Kuzma doesn't necessarily have a fixed place on the roster and has been thrown around to try and make it work. The Lakers' most effective lineup with Kuzma, features Rajon Rondo, Kentavious Caldwell-Pope, LeBron James, and Dwight Howard alongside him. This lineup is good for 122 points per 100 possessions and a 61.7% effective field goal percentage (an 85th and 94th percentile, respectively). The above statistics are via Cleaning the Glass.
However, it seems that he has found difficulty in carving out an understanding of his role on the roster. Something which the likes of Kentavious Caldwell-Pope and Dwight Howard have done, when their backs were up against the wall. With both adapting to fit the needs of the team.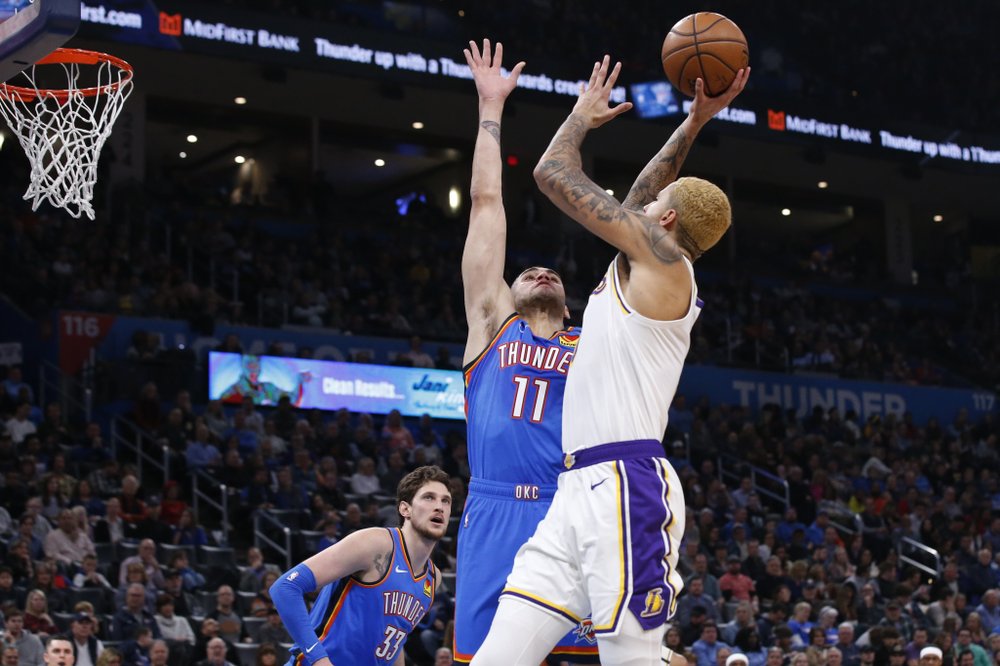 The Talent Is Still There:
But again, the majority of Kuzma's work this season has been done off the bench. Which hinders his productivity. He's started in 7 contests this season, and in those, he's averaged 20.3 points, 5.4 rebounds, and 2.1 assists. On 47% shooting. Those starts, when Anthony Davis has been ruled out.
His drop in productivity doesn't make him a bad player. Not at all. It's what occurs when a superstar like Anthony Davis takes your starting position. Forcing you to take whatever minutes are available off the bench. On a stacked roster as well.
JaVale McGee and Dwight Howard have impressed this season, which has caused the Lakers to avoid playing small-ball, with Davis at the center position. This has limited the James-Davis-Kuzma lineup this season. Limiting Kuzma playing alongside the Lakers' two superstars.
Coupled with the fact that he missed pre-season and the start of the regular season due to injury. He's been a step behind from the very start and unfortunately has never caught up, it appears.
Kuzma has scored 20+ points on eight occasions this season. He lit up for 36 points on the road against the Oklahoma City Thunder back in January too. A season-high. His talent is undeniable.
Kyle Kuzma produces with more minutes and more touches of the ball. Like anyone. It's just if Anthony Davis re-signs long-term, and with the Lakers' looking to hold a super-team for the foreseeable, he may not find those looks to increase his productively. Therefore, the Lakers may look to offload him on the trade market, for some value in return. A decision that may be mutually beneficial.