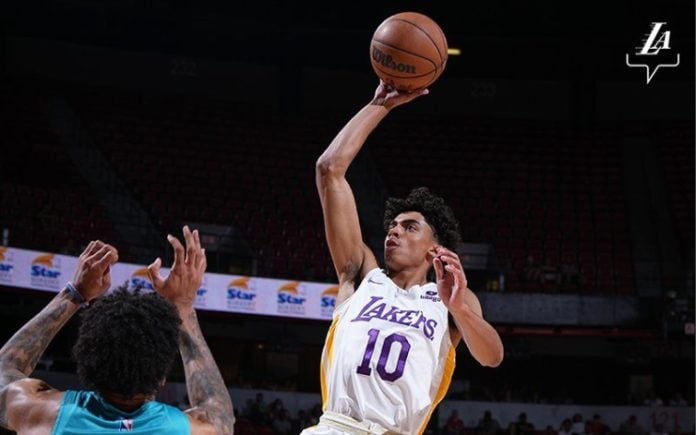 Lakers rookie Max Christie received significant playing time during the team's third preseason game against the Timberwolves. The 19-year-old guard played 32 minutes during which he scored 11 points, grabbed 5 rebounds and had 1 assist.
He left a good impression on his head coach Darvin Ham who sees potential in Christie. At the same time Ham named the areas where the guard needs to improve.
"He's really improved his body. He was real thin when we first got him. Now you're starting to see a little bit of muscle mass, a little muscle definition," Ham said postgame. "Kid has great touch, really athletic, one of the better athletes on the roster.
"He has to just keep working, just little simple nuances of the game, his running habits, knowing how to run and space and not being indecisive when it's time to make a cut or it's time to take a route over the top of the ball and being strong with the ball, going hard to the rim with strength.
"You saw Lonnie Walker. You look at those two, Lonnie has more experience under his belt, but that's how Max has to attack the basket when he's getting into the paint with all-out reckless abandonment.
"But all in all I like the progress that the kid is making. He has a lot of coaches, a lot people on our performance team and me personally excited about his future. I think he's going to be a really really good player. He's a hard worker, great kid, great attitude, good focus. I think he's going to do really really well and have a long career."