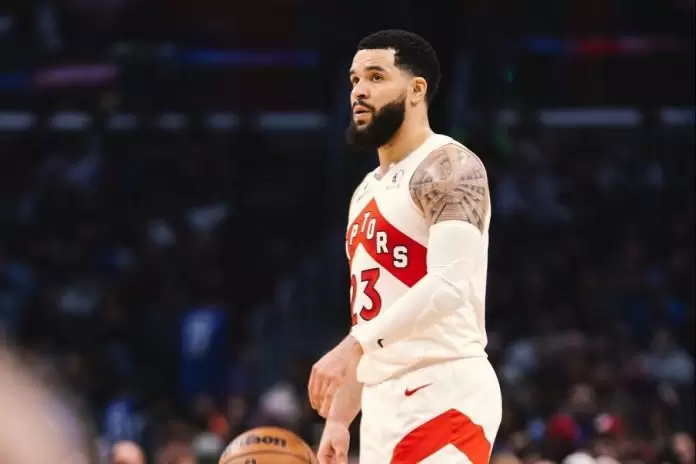 As they saw their season come down to a painful end on Wednesday, Fred VanVleet is sensing that need for deep contemplation about himself and the Toronto Raptors.
"I think it's always good to get away, whatever that means for you individually. I think it's also good to sit in it too. So I'll probably sit in this one for a while," VanVleet said postgame after dropping 26 points and 12 boards on the losing effort. "A lot of growth and getting better and just being able to overcoming the obstacles and challenges is accepting where you come up short, and accepting your mistakes and shortcomings.
"So I'll probably beat myself up over this one for a while – let it hurt, let it sink and then get back to the drawing board. It's probably only like a 14-day window for me, that's probably the farthest I can go. But right now, tonight, it's hard for sure."
The Raptors entered the Play-In tournament having an upper hand against the Chicago Bulls, given that they possessed the home-court advantage as the ninth-placers of the Eastern Conference.
They were already in command of bagging the Play-In win to advance for the battle of the final playoff spot in the East after leading by as much as 19 points in the third frame, 66-47, but the tables have suddenly turned around. Zach LaVine melted and charged the Bulls for a comeback rally with his 39 points while DeMar DeRozan chipped in 23. 
VanVleet and Toronto also beat themselves to wasting momentum and getting eliminated. With DeRozan's daughter Diar unleashing loud screams from the stands, they horrifyingly shot 18-for-36 from the free throw line, only making 50 percent of their total attempts.
Despite the disastrous and embarrassing showing in front of the Scotiabank Arena crowd, VanVleet remains proud and still has his head held high for the Raps as they head into the exits of the 2022-23 campaign.
As they rested on the All-Star Break with a shaky 28-31 card that is out of the Play-In classification, the Raptors clawed their way back and made a sheer effort to continue fighting for season survival. They went on to finish with a 13-10 record that allowed them to finish ninth in their Conference.
"We were the 9th seed, we're .500, so what does that tell you? It means we won one, lost one, win two, lose two. Like it's just the way it goes. That's kinda the way it went. There were a lot of different things going on, a lot of noise, lot of different things coming from all different angles and I'm proud of the group for sticking together," VanVleet said.
"We didn't really have too much negativity inside the locker room as things can go sometimes. Overall, I think we just got to able to learn from it. … I think you just got to take all of these lessons and learn from them and continue to get better."