In the dynamic world of professional basketball, sponsorships play a pivotal role in supporting teams and promoting the sport. This article delves into the realm of casino sponsors, shedding light on their significance in modern sports, with a focus on the NBA, WNBA, and international basketball leagues. We will also explore the potential benefits for both basketball teams and casino sponsors, highlighting how these partnerships create a win-win scenario.
Online Casino in Sports Entertainment
Before we delve into the casino sponsors of basketball teams, let's introduce a notable player in the world of sports entertainment: Kaszino Zone. This prominent online casino has carved out a unique niche for itself in the sports industry. Kaszino Zone is not just about gaming; it's about the fusion of casino excitement with the thrill of sports.
Kaszino Zone has strategically positioned itself as a premier online casino with a keen interest in sports partnerships. What sets them apart is their dynamic involvement with various sports-related entities, bringing a fresh and exciting perspective to the synergy between online casinos and sports entertainment.
And now it's time to tell you which casinos are sponsors of famous basketball teams and leagues.
NBA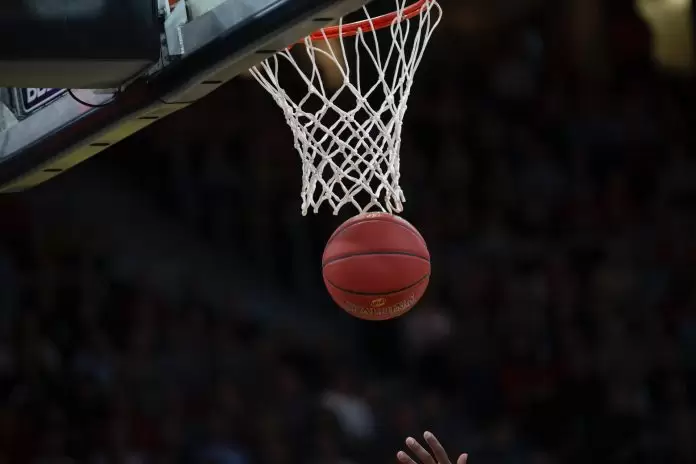 The NBA (National Basketball Association) stands as the premier professional basketball league in the world, boasting 30 teams from the United States and Canada. With a global fan base that spans continents, the NBA is a revenue powerhouse, generating billions of dollars from media rights, merchandise, ticket sales, and sponsorships. Today, we explore the dynamic world of NBA casino sponsors, shining a spotlight on the partnerships that amplify the excitement of professional basketball.
Prominent Casino Sponsors in the NBA:
1. MGM Resorts and the Boston Celtics
One of the NBA's most successful and storied franchises, the Boston Celtics, proudly boasts MGM Resorts as their official gaming partner. This strategic collaboration extends beyond the boundaries of traditional sponsorship. MGM Resorts gains exclusive access to the Celtics' digital and social platforms, in-arena signage, and promotional events, creating a seamless fusion of sports and entertainment. What's more, Celtics fans are treated to an array of exclusive benefits, including VIP hospitality, thrilling sweepstakes with enticing rewards, and irresistible discounts.
2. Caesars Entertainment and the Philadelphia 76ers
The Philadelphia 76ers, renowned for their popularity and competitiveness, have found a fitting partner in Caesars Entertainment. As the official casino partner of the 76ers, Caesars Entertainment enjoys prominent visibility on the team's digital and social platforms, in-arena signage, and captivating promotional campaigns. It's not just about branding; it's about crafting unique experiences for 76ers fans. They savor the exclusive privileges of VIP hospitality, participation in exciting sweepstakes, and the allure of special discounts.
3. Bally's Corporation and the Phoenix Suns
The Phoenix Suns, known for their thrilling gameplay and undeniable talent, have embraced Bally's Corporation as their official sports betting partner. This collaboration transcends traditional sponsorship norms, encompassing an active presence on the Suns' digital and social platforms, engaging in-arena signage, and exhilarating promotional activities. Beyond that, Suns enthusiasts revel in exclusive benefits like VIP hospitality, pulse-pounding sweepstakes with coveted prizes, and irresistible discounts, all enhancing their basketball experience.
Source Information: NBA statistics and sponsorship details sourced from Interbasket and Sportfunder.
WNBA
The WNBA (Women's National Basketball Association) proudly stands as the preeminent women's basketball league globally, boasting not only a fervent fan base but also substantial revenue streams that have drawn the attention of casino sponsors. Here, we delve into some noteworthy instances:
Prominent Casino Sponsors in the WNBA:
1. Mohegan Sun's Total Commitment to the Connecticut Sun
Mohegan Sun's unwavering dedication to both owning and sponsoring the Connecticut Sun, a perennially triumphant WNBA team, transcends mere court-side visibility. Their multifaceted partnership extends to jersey sponsorship and the privilege of naming the team's home arena. Beyond these branding triumphs, fans of the Connecticut Sun revel in exclusive benefits that include VIP hospitality, exhilarating sweepstakes, and enticing discounts, all thoughtfully orchestrated by Mohegan Sun.
2. Mandalay Bay's Audacious Stance with the Las Vegas Aces
Mandalay Bay, renowned for its audacious endeavors, has boldly undertaken the ownership and sponsorship of the Las Vegas Aces, a formidable presence in the WNBA. This alliance not only includes jersey sponsorship but also the distinctive honor of naming the team's home arena. Through these strategic maneuvers, Mandalay Bay has firmly established its brand identity. In return, ardent Aces fans enjoy an array of exclusive privileges, ranging from VIP hospitality to captivating sweepstakes and alluring discounts, elevating their WNBA experience to new heights.
3. Parx Casino's Thrilling Partnership with the Philadelphia Wings
In the ever-evolving landscape of the gaming industry, Parx Casino has emerged as a rising star, marking its presence with an exciting partnership alongside the Philadelphia Wings, a promising entrant into the WNBA. This collaboration goes beyond branding and encompasses jersey sponsorship, allowing Parx Casino to shine brightly in the team's visual landscape. Philadelphia Wings enthusiasts are treated to an array of special benefits, including access to VIP hospitality, thrilling sweepstakes opportunities, and enticing discounts, making their WNBA journey even more exhilarating.
| | | | |
| --- | --- | --- | --- |
| Casino Sponsor | WNBA Team | Partnership Highlights | Fan Benefits |
| Mohegan Sun | Connecticut Sun | Ownership and sponsorship, jersey, and arena naming rights | VIP hospitality, sweepstakes, discounts |
| Mandalay Bay | Las Vegas Aces | Ownership and sponsorship, jersey, and arena naming rights | VIP hospitality, sweepstakes, discounts |
| Parx Casino | Philadelphia Wings | Jersey sponsorship | VIP hospitality, sweepstakes, discounts |
International Casino Sponsors
Basketball's popularity transcends borders, with various countries boasting their own professional leagues and national teams. Some of these leagues and teams have found willing partners in casino operators looking to expand their reach. Here are a few noteworthy examples:
Betway's role as the betting partner of Alba Berlin in Germany
In Germany, Alba Berlin enjoys the support of Betway as its official betting partner. This collaboration leverages the team's digital and social platforms, along with jersey sponsorship. Betway also extends exclusive benefits toAlba Berlin fans, including VIP hospitality, sweepstakes, and discounts.
BetVictor's partnership with Valencia Basket in Spain
Valencia Basket, a prominent team in Spain, has entered into a partnership with BetVictor as its official betting partner. This arrangement includes digital and social platform exposure, as well as jersey sponsorship. BetVictor sweetens the deal for Valencia Basket fans with VIP hospitality, sweepstakes, and discounts.
Bet365's association with Melbourne United in Australia
Australia's Melbourne United has found a worthy partner in Bet365 as its official betting partner. The collaboration encompasses digital and social platform visibility, complemented by jersey sponsorship. Melbourne United fans can enjoy exclusive privileges, including VIP hospitality, sweepstakes, and discounts.
Conclusion
In the dynamic realm of professional basketball, casino sponsors have emerged as powerful catalysts, elevating the sport's fan experience and bolstering revenue streams. From MGM Resorts and Caesars Entertainment's partnerships in the NBA to Mohegan Sun and Mandalay Bay's vibrant involvement in the WNBA, these collaborations redefine the synergy between casinos and sports. Emerging stars like Parx Casino and international giants like Betway, BetVictor, and Bet365 have further broadened the horizons of basketball sponsorships.