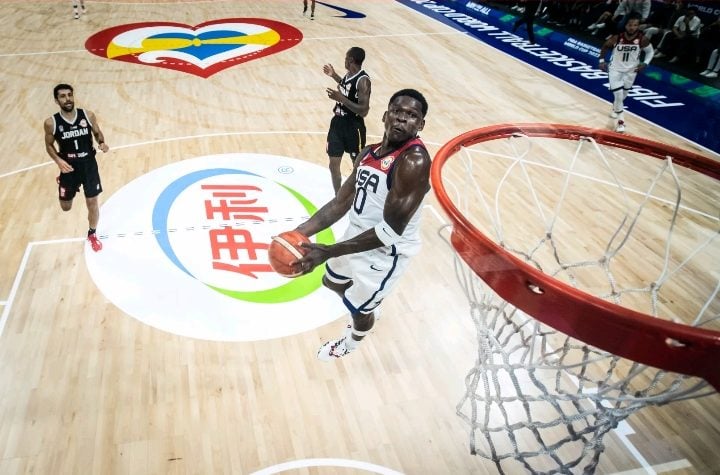 Anthony Edwards can't just only play some hoops as he is also quite capable of twisting entertainment within a room.
After he and the United States's 110-62 demolished the Rondae Hollis-Jefferson-led Jordan to mop their Group C competition of the 2023 FIBA Basketball World Cup, Edwards was asked about how he's been able to adapt to the much different rules of FIBA basketball. 
The Minnesota Timberwolves cornerstone didn't hold back spitting his basic secrets.
"I always keep it simple and short. For me it's just put the ball in the basket and get a stop," Edwards said in the postgame, instantly drawing laughs within the press room.
"That's why we love him. That's what we need from him," head coach Steve Kerr quickly stated about Edwards' response as he shared a laugh with the reporters.
Adapting to the FIBA rules hasn't made Edwards and even the entire United States sweat.
The 22-year-old star is currently averaging 16.3 points in 20.9 minutes to top the American team in both of the statistics. Against Jordan on Wednesday, he powered his nation to a massive 48-point rout over the Jordanian squad with 22 points (13 in the first frame), eight boards, and four dimes.
Out of the 32 participating teams in the tournament, the U.S. collectively ranks first in averages of efficiency per game (141.3) and blocks (6.7), while being in the top five of points (106.0), rebounds (45.7), assists (26.0), steals (10.3) and field goal shooting (54.5%) categories.
These superb numbers only propelled the basketball superpower to live up to the initial expectations by being able to ace the first round of the World Cup's Group Phase, holding an unblemished 3-0 record alongside Canada, Serbia, Slovenia, Lithuania, Germany, Dominican Republic and reigning title champs in Spain moving on to the second round.
As their journey towards glorious redemption gets deeper, the U.S. squad is about to encounter much tougher and fundamentally sound contests. They will face the Group D victors of Lithuania and Montenegro up next, who respectively boast two NBA stars and highly-caliber bigs in Jonas Valanciunas and Nikola Vucevic.
Steve Kerr won't get tired of reminding his troops that the level of atmosphere in FIBA will always be contrasted with their accustomed style of play in the NBA as they vie for consistency until achieving the Naismith Trophy.
"I think we've tried to really emphasize the differences at the FIBA rules," Kerr said.