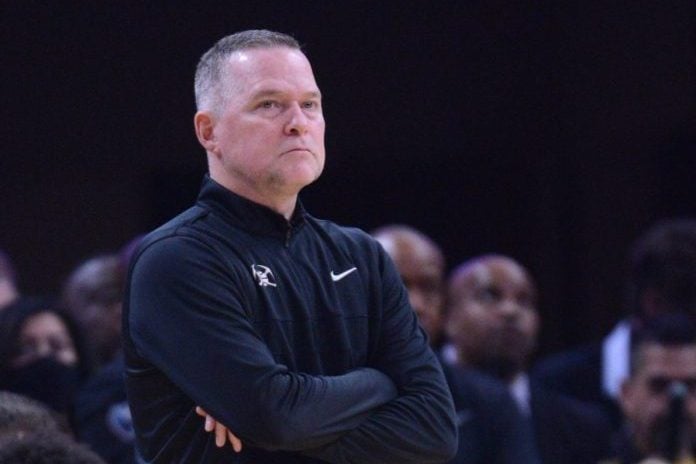 Though they are heading home sitting in the driver's seat, head coach Michael Malone reminded his Denver Nuggets squad that the NBA Finals is not yet over until it's over.
In his postgame presser following their massive Game 4 win over the Miami Heat to take the 3-1 series advantage, Malone echoed his message to his Nuggets team that they haven't done anything yet to allow themselves to be too ahead in the championship stage.
"Just understand that we haven't done anything. I told the guys the first thing I said 'We're not celebrating.' It's a good win, we've done our job, but we are not celebrating like we've done anything yet," he said.
After collapsing in Game 2 last Sunday, the Nuggets responded with sheer fury to absorb the entire morale and hopes of the Heat within their home in the last two matches.
In Game 4, they dominated once again on both ends of the floor as their main core also stepped up big time in the scoring department. Aaron Gordon was at the front with 27, Nikola Jokic retained his all-around brilliance with a 23-12 double-double, Bruce Brown was red hot with 21 bench points and Jamal Murray had 15 with 12 assists while having no turnover in 42 minutes of action.
Having that golden opportunity to officially hoist their first-ever title at home in Game 5 on Monday, Malone reminded his troops to stay away from the narratives that favor them and stay focused on finally landing the last piece of their championship puzzle.
"We know we're gonna have to go home and turn off the TV, the radios, don't read the papers, don't listen to everybody telling you how great you are because we haven't done a damn thing yet. We have to win another game to be world champions, and we're going to do that by simply taking it one quarter at a time," he said.
"[If] we stay true to our identity we'll give ourselves a great chance to do that."