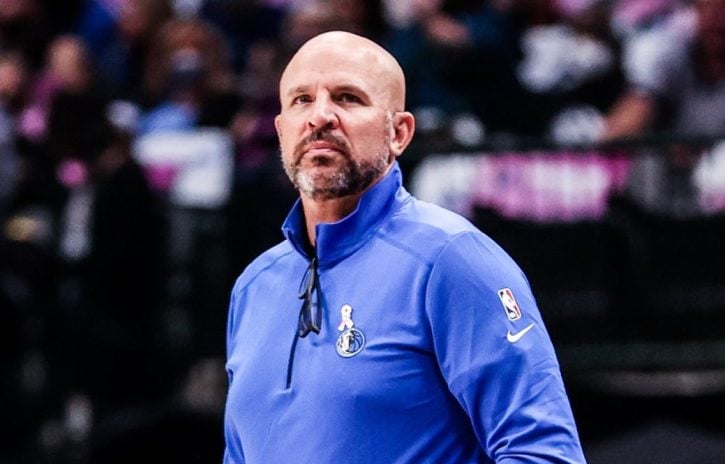 Jason Kidd can only be straightforward in terms of his thoughts regarding the Dallas Mavericks' disastrous elimination for a play-in bid this season as they were dismantled by the Chicago Bulls, 115-112.
"Understanding our record, being eliminated isn't something that we wanted to be at and we got some work to do this summer," said Kidd in the postgame. "But you know, I understand things happen. It wasn't our searson, we got to learn from this and we'll get better."
The Mavs entered the Friday night still in hopes of fighting for a play-in position after a resilient Wednesday victory against the Sacramento Kings, but the club suddenly shocked the NBA as they went on to deactivate their core players in Kyrie Irving (foot), Christian Wood (rest), Josh Green (rest), Tim Hardaway Jr. (ankle), and Maxi Kleber (hamstring) as they are slated to face the Bulls.
Luka Doncic (thigh) was also listed as out initially but was made available in an unusual fashion – just for the first quarter. The superstar went on to play until the first minute of the second frame, finishing with 13 points, five boards, and three assists.
What Dallas did to their main units against the Bulls drew plenty of reactions around the league. They were still on the play-in hunt and had to win the match and their regular season-ender against the San Antonio Spurs on Sunday to put themselves in a strong position to advance.
But this defeat ultimately paved the pathway for the Oklahoma City Thunder to seal the last play-in seat within the Western Conference.
"It's not so much waving the white flag," Kidd said about the fans' notion of the Mavs making their top cagers unavailable against the Bulls. "It's decisions sometimes are hard in this business. We're trying to build a championship team. 
"With this decision, this is maybe a step back. But hopefully it leads to going forward."
As they took the gut-wrenching loss, the Mavericks seemed much more willing to prioritize their chances to land their first-round pick in the upcoming 2023 Draft, rather than fighting for an NBA title by embarking on a narrow road.
For context, the club owes the New York Knicks a first-round pick via the Kristaps Porzingis trade, and this rookie selection is top-10 protected. Should the Mavs enter the Play-In Tournament, they would automatically hand the pick because they would not be in the lottery.
Dallas will cap off 2022-23 as one of the darkest in their franchise history, failing to meet expectations after their successful run last year en route to a Conference Finals finish.
But for Kidd, he can only hope that this will serve as a learning curve for them to deliver a redemption campaign next year.
"Again, it's not always easy to make decisions, but these are decisions made from my bosses and we gotta follow them," Kidd added. 
"We trust [Mark] Cuban and Nico [Harrison] to put the pieces together to put us in a position to win a championship, so that's just the starting process today."