2.35 m basketball player dunks without leaving the floor!!!
Dafuq?!
That's one passionate dunk
Respect and thanks for everything:
Alvertis, Bodiroga,

Jasikevicius

, Radja, Wilkins, Vrankovic, Fotsis, Rebraca, Kattash, Gentile, Koch, Middleton, Kutluay, Rogers, Papadopoulos, Becirovic, Tomasevic, Siskauskas, Pekovic,

Lakovic

, Vujanic, Chatzivrettas, Maljkovic,

Spanoulis

and many more to follow in the near future.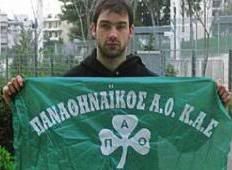 Quote:

World's tallest player heads to Cheshire



British big man Paul Sturgess, known as the world's tallest basketball player at 2.32 metres has signed for Cheshire Phoenix.

Sturgess, originally from Loughborough spent two years with the Harlem Globetrotters before being drafted to the NBA D-League, where he played for the Springfield Armor and the Texas Legends.

The 26-year-old decided to take a hiatus from the sport, but upon returning to England, has decided to get back on the court.

"I am looking forward to joining the team," he said. "I have been enjoying my time back at home in England and for the chance to play in the BBL whilst I am here is something I will relish. I am excited to join my new team mates and hope to fulfil whatever role is given to me."

He is expected to make his debut on Sunday afternoon at Manchester Giants.

"We are so excited to have the opportunity to bring in someone who can play in the middle for us and protect the basket as well as rebound and score," said Phoenix coach John Coffino.

"Paul is a unique and special talent that only comes along once in a lifetime. The fans will take to him immediately and we look forward to his transition into our family."
http://www.talkbasket.net/12114-worlds-t...shire.html
Possibly Related Threads…
Thread
Author
Replies
Views
Last Post
Basketball shoes!
ZEUS
14
14,715
May 21, 2018, 10:22 am
Last Post: Iparteamper
Funny basketball videos, photos, comics etc
Black Urum
65
28,784
Nov 9, 2016, 7:37 pm
Last Post: Al Bundy
Basketball Art
TalkBasket
0
1,680
Oct 24, 2016, 1:00 pm
Last Post: TalkBasket
New Basketball Manager game
TheBlueAssasin
0
3,731
Apr 25, 2013, 9:24 am
Last Post: TheBlueAssasin
Dusko Vujosevic interview ,politics,basketball and more
stefans
0
2,061
Oct 9, 2011, 7:59 pm
Last Post: stefans
Users browsing this thread: 1 Guest(s)